Hedges: knack in choosing right species
This article was first published on 20 Jul 2011.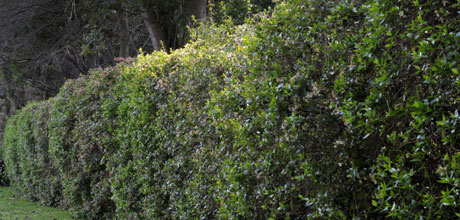 A living hedge
A row of plants pruned as though they are one can form a great living barrier. Hedges are incredibly versatile and can be any size, shape or colour depending on the species used.
Certain plants respond well to pruning, forming dense bushy shrubs ideal for screening. Other plants can be faster growing, becoming taller and less dense, making a good wind break. Choose plants with red, yellow or variegated foliage or flowers for a dramatic effect.
The hardest part is choosing the right species for a specific location or purpose, to limit on going maintenance problems. Slower growing species require less pruning but can take longer to reach the desired size. Fast growing species form a hedge quickly but can require pruning more than once a year. If you are looking for privacy make sure that you choose a species that keeps its leaves all year. There are many good choices of deciduous or evergreen, native or introduced species that can be used for a living fence. The species chosen will depend on availability and your local garden centre can offer advice on species and numbers required.
At Dunedin Botanic Garden there are good examples of mainly introduced species pruned to form fences. Near the herbaceous borders in the lower botanic garden a holly hedge provides great privacy and security with its spiky leaves. In the upper botanic garden beside the aviary is the hedge pictured, Abelia ×grandiflora which is covered in flowers throughout the summer.
Dylan Norfield is Collection Curator of the Geographic and Arboretum Collection at Dunedin Botanic Garden