Herb garden
History of the Herb Garden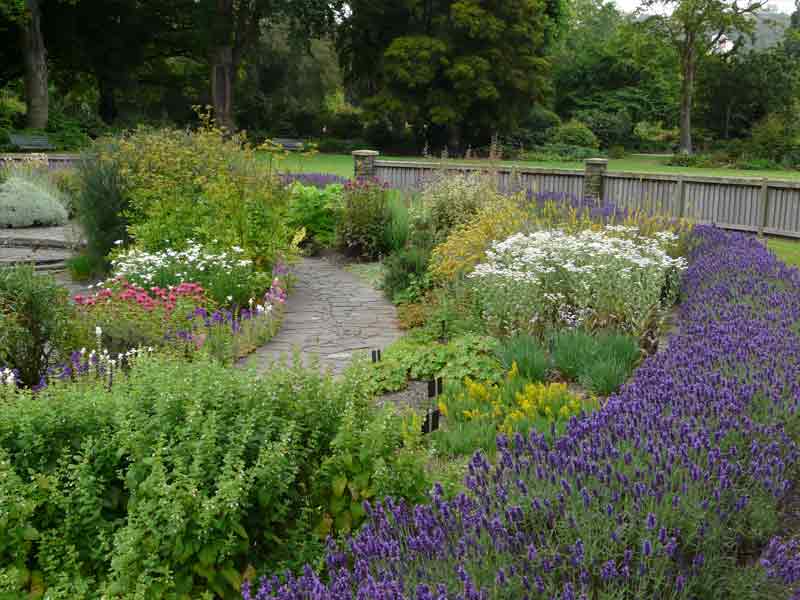 Herb plantings in the garden were previously sited where the Knot Garden is today.
In 1987, the Otago Herb Society established the Herb Garden on the current site. The Otago Herb Society still helps with maintenance and supplying plants.
It had been originally constructed in 1948 as a sunken garden, the Dunedin Horticultural Society gifted this garden to the Botanic Garden to commemorate the city's centennial. Iris were displayed here in the 1950s until they became less popular in the 1960s and 70s. The area was then used for annual bedding plants in the circular beds between the stone paving.
Significant Plants in the Herb Garden
The Herb Garden contains many different types of herbs. Their uses are indicated by a colour-coded system on the Herb Garden information panels. The different categories include culinary, medicinal, cosmetic, insect repellent, tea, dying and decorative.
The top circle of the garden has a lavender hedge planted around it, which forms a barrier between the grass and the garden borders. Many common culinary herbs such as rosemary (Rosmarinus officinalis), thyme (Thymus vulgaris) and sweet marjoram (Origanum marjorana) are grown as well as some more unusual herbs like Artemisia absinthium, which has medicinal properties as well as being used to flavour absinthe liquor.
Salvia viridis
This very colourful little annual or biennial is planted in a single row in a very narrow circular border. This striking display combines three cultivars: Salvia viridis 'Blue Monday', 'Pink Sunday' and 'White Swan'. These cultivars are mixed together as seed and sold as Salvia viridis 'Tricolour Mix', although sometimes an alternative species name, Salvia horminum, is used.
Agrimonia eupatoria
Agrimonia eupatoria is an attractive medicinal herb. Its yellow flower spikes in mid summer and good autumn foliage colour make it a plant for the Herbaceous Border as well as the Herb Garden. It has many common names but the one used most widely is common agrimony.
It has the reputation for curing jaundice and other liver problems, and externally for sores and other skin problems. A yellow dye can be obtained from the plant, light yellow if collected in late summer but much darker if collected later in autumn.
Seasonal highlights in the Herb Garden
The Herb Garden is at its best in summer, with the flowers in full bloom and the scent of herbs enticing passersby to stop and savour the aroma. You are welcome to pick small snippets to savour their smell.