Rhododendron Dell
About Rhododendrons
The genus Rhododendron comprises about 1,000 species and more are still being discovered. There are 2221 rhododendrons in the Rhododendron Dell - 128 different species, 223 named hybrids and 518 unnamed hybrids.
The Dell's living display of rhododendrons follows the classification system of Cullen and Chamberlain, with species planted in subsection groups. Horticulturally important forms are also grown together. Labels in the Garden give these details as well as the country of origin of species and, where known, the parentage of hybrids.
Rhododendrons are mostly evergreen. They can be woody shrublets or grow to trees 30m tall. The flowers are showy and grow either singly or in trusses.
Dunedin's equable climate is well suited to Rhododendron culture. Within the Dell's variety of microclimates, many different types of Rhododendrons thrive in its loess and basalt-derived soils.
Significant plants in the Dell
Rhododendron calostrotum ssp. keleticum
This is the smallest Rhododendron in the genus. It has a spreading mat of 2.5cm to 40cm high. It grows in altitudes between 3,400 - 4,600m in Tibet (Xixang), Myanmar (Burma) and Yunnan. Its reduced stature came about through exposure to extreme cold and wind. It has proven to be adaptable to Dunedin's moderate temperatures and fairly even rainfall.
Rhododendron protistum
This is the largest Rhododendron in the genus. It originated from temperate rain forest in west China and Myanmar and grows to 30m high in the wild. We have enough rain in Dunedin to grow R. protistum although they will only reach 12 - 15m in height.
Rhododendron 'Marquis of Lothian'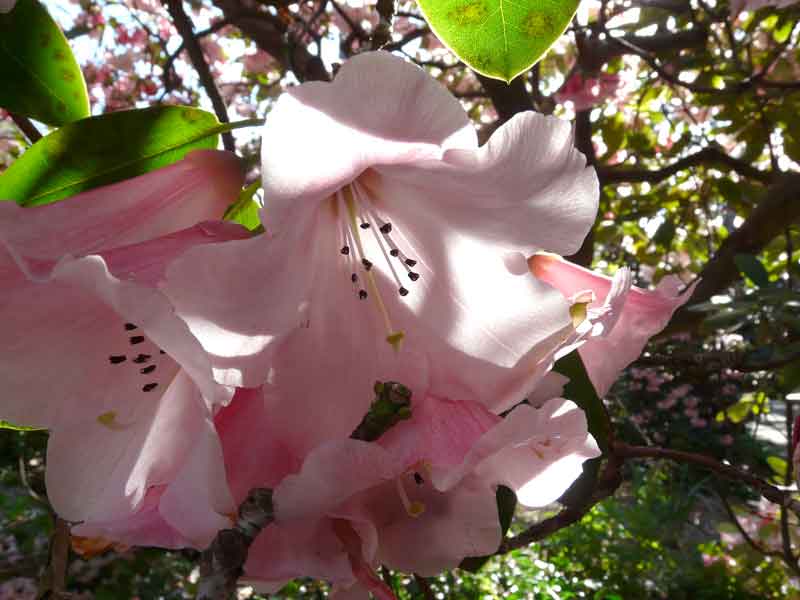 This is one of the oldest New Zealand-raised Rhododendron hybrids. It is a cross between R.thomsonii and R. griffithianum. The hybrid was raised at Fairfield just outside Dunedin in the late 1870s by William Martin.
Seasonal highlights
Rhododendron Day
A garden fete is held on the Sunday before Labour weekend at the carpark next to the Dell. It includes plant sales of Rhodos and many other plants and Rhododendron Dell tours.