An Autumn Stroll
This article was first published on 14 May 2021.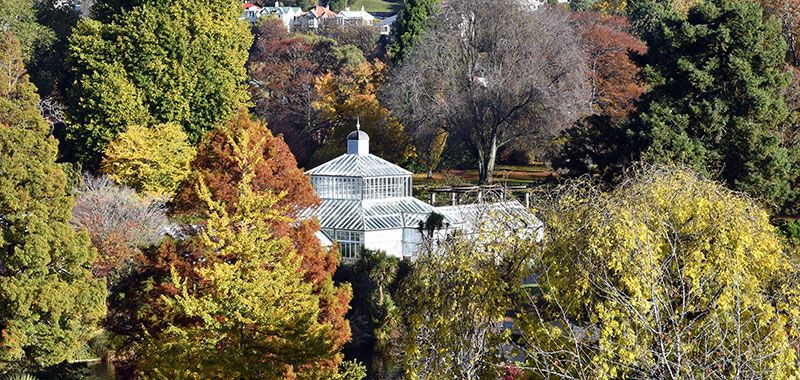 autumn-plant-life
Photo by the Otago Daily Times
With shorter days and cooler temperatures, lush summer foliage and bright blooms give way to autumnal colours as nature slows down and prepares for the cold winter days that lie ahead.
An afternoon stroll from the Rhododendron Dell down to the lower botanic garden will excite all your senses. Take in the Japanese maples and azaleas with brilliant red hues around you in the Azalea Garden. Walk towards the South African Garden, and you will see a small Cercis canadensis 'Forest Pansy', with its heart-shaped foliage, glowing-orange and red.
Stop at the South African Garden, listen carefully for the sweet songs of tui and bellbirds, while smelling the cosy aroma lightly rising from amongst the African plant species.
Take a moment to sit at the Rock Garden. Here you can delight in the lower garden landscape, clothed in colourful autumn light. In the distance, the golden maidenhair tree (Ginkgo biloba), scarlet tupelo (Nyssa sylvatica), foxy bronze dawn redwoods (Metasequoia glyptostroboides) accompany the other beauties decorating the garden landscape.
Autumn is a busy time. As you walk, you can see how much work there is to be done in this season. Garden staff work hard to not only get the collections ready for winter, but also to prepare the plants to awaken after a long, cold, dark winter into a brilliance of spring colours and floral scents.
So, before you hunker down for the cold winter months, take advantage of the beauty to be found this autumn, with a stroll around the different plant collections – you will not be disappointed.