Annuals Provide Pizzazz
This article was first published on 19 Aug 2014.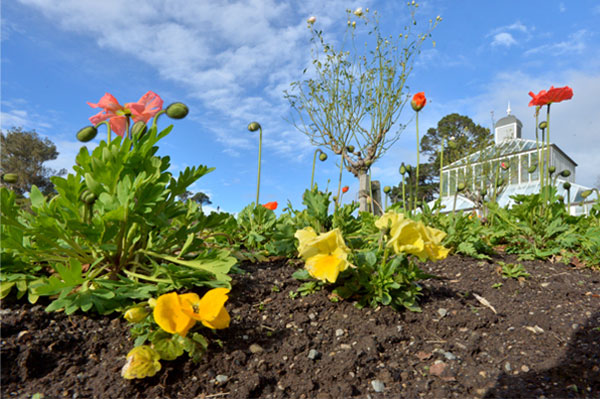 Annuals
The simple pansy is at the top of my list for winter flowering annuals. It is easy care and even better, is always flowering.
I'm also a great fan of the Iceland poppies. Both these reliable annuals tick the boxes for providing instant colour, being easy to grow and care for, as well as being relatively easy to obtain.
Dunedin Botanic Garden is delivering a dramatic demonstration of these two charmers, planted en masse in front of the winter garden glasshouse. This winter-flowering bedding display of flamboyant colour reminds us how much we owe to past horticultural scientists. Without these splashes of colour, winter would indeed be dull.
The bed is edged in mixed pansies, while the centre is planted out with mixed Iceland poppies in shades of orange, yellow, pink and white.
Under-planted amongst the poppies are the early flowering tulip bulbs, 'London'. Just emerging from the soil at the moment, they will flower later in the season as a dark scarlet red.
Care
Regular weeding around the pansies and poppies, as well as removing the old flowers and seed pods early will help extend the flowering season and stop them self-seeding freely. If planted in containers, regular watering will be required.
Uses
Excellent planted en masse but equally at home planted throughout the garden to add a splash of colour. They are also fantastic plants for containers.
Linda Hellyer is curator of the herbaceous borders and rose garden at Dunedin Botanic Garden.