Autumn in Spring Time
This article was first published on 03 Oct 2012.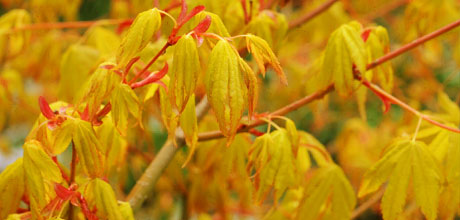 Acer palmatum
Maples bring an uplifting presence to the garden at any time, but they are at their best in spring and autumn. Usually we associate spring with their fresh new growth in tiers of delicate light green and autumn with glowing reds, yellows and orange. Some varieties though, like Acer palmatum 'Ueno-yama', stand out in spring because their new growth is so reminiscent of autumn.
The new foliage comes out light orange-yellow with deeper tints around the leaf margins. It then gradually fades to light yellow-green as the season progresses. The pink to red younger stems off-set the leaves beautifully and the whole effect is completed by the green bark on the main stems. Although the colours are autumnal, there is no impression of decay. The leaves still convey the freshness of spring and are a perfect compliment to all the other new growth and surrounding colour.
Light coloured varieties like Acer palmatum 'Ueno-yama' are grown more easily in some shade. One is planted on the edge of the Sunken Walk in the Rhododendron Dell at Dunedin Botanic Garden. New Zealand native bush on either side of the walk shelters it from the late morning and afternoon sun which would otherwise bleach the leaf colour. Without shade the delicate foliage would also be prone to scorching and need ample water in sunny spells to maintain health.
In autumn, the golden glow returns, making this maple ideal for brightening up darker corners of the garden from September to May.
Doug Thomson is curator of the Rhododendron Dell at Dunedin Botanic Garden