Autumn signals change
This article was first published on 20 Apr 2016.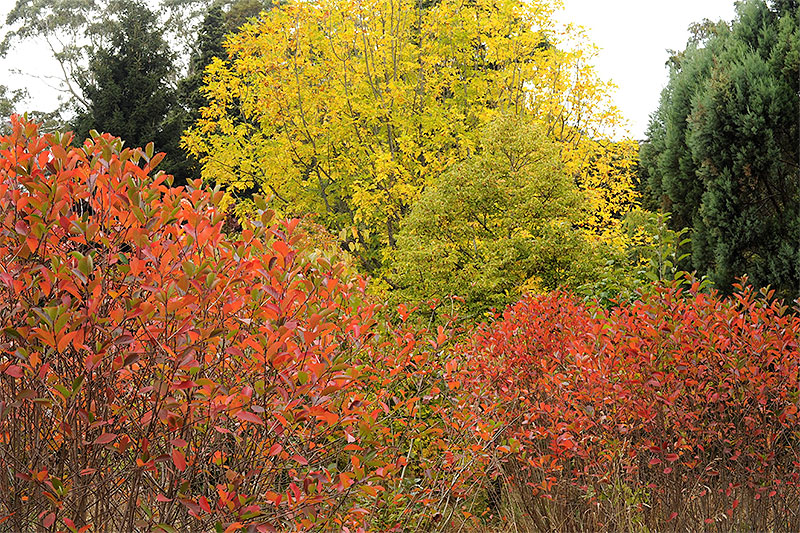 Autumn colour in the Botanic Garden
Plants in the garden are telling us that autumn is here. It has been a hard year for many plants with little moisture for several months so herbaceous plants are starting to look tired. However, it is not a time to get depressed the growing season is over; rather rejoice the deciduous trees are colouring up, and think about planting new things to enjoy next year.
This is the time many plants make autumn roots because soil temperatures are still good. Autumn rain helps too and starts to increase soil moisture levels after a dry summer. When planting in autumn still ensure that plants are well watered and if evergreen, continue to water during dry spells over winter to encourage strong root growth - this late rooting sets the plant up for next spring.
This is also the time of year to reflect on the past year's successes and failures and consider what to do for the next growing season. With hotter and drier summers and autumns becoming the norm, carefully consider new and existing plantings. Get to know where the drier spots are in your garden and plant accordingly. Wise planting now will save hours of watering in years to come.
Consider carefully placed irrigation systems that can water the areas and specific plants that need it, and do not underestimate the value of mulch. If the soil is still dry, water well and mulch in autumn, helping to hold in any soil moisture and stop weeds from germinating.
Dylan Norfield is the Geographic and Arboretum Collection Curator at Dunedin Botanic Garden.