Balancing Natives and Rhododendrons
This article was first published on 12 Apr 2012.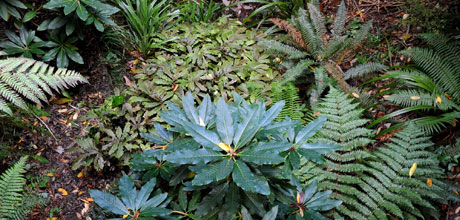 Balancing Natives and Rhododendrons
Over the years, some of my most satisfying planting schemes have been a combination of rhododendrons and New Zealand natives. They work well together because although they are both mainly evergreen, the natives' variety of form and texture balances the rhododendrons' more uniform appearance. The rhododendrons though, can give that splash of colour that the natives often lack, creating a seasonal wow factor that might otherwise be missing.
The pairing can be effective on any scale. Large leafed rhododendron species can be planted in open areas within native bush where they benefit from the shelter. In return they convey an exotic temperate rainforest feel. If you do not want to interplant the two, you can simply use the bush as a back-drop for rhododendrons to get a similar impression.
If you are planting a shrub border, there is a wealth of natives to pick from that grow well with rhododendrons. You have every conceivable plant shape to play with, from flat to rounded or upright. Foliage can come in different colours, as well as being soft or spiky. Matching them with rhododendrons is easy because the rhododendrons themselves are hugely diverse. Whether you are choosing the rhododendrons for a certain stature or particular size of leaf you will find what you need.
The key is to use enough of each so that the two styles are balanced. Do that and even a small corner of the garden can be enriched by a blend of natives and rhododendrons.
Doug Thomson is curator of the Rhododendron Dell at Dunedin Botanic Garden