Bananas bring summer into winter
This article was first published on 28 Jun 2012.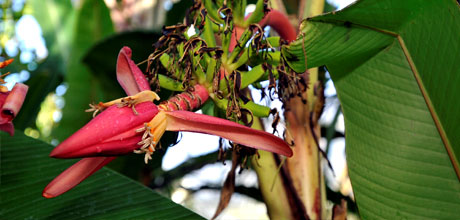 Musa mannii
Banana's flowering in the middle of winter seems to bring a little bit of summer back into the Winter Garden when it's cold and gloomy outside.
Musa mannii is well suited to the Winter Garden central house than a lot of other bananas due to its smaller habit. Its maximum height is about 2 metres.
Commonly known as the Indian dwarf banana, it is native to Assam, India where it's almost extinct however is widely grown in cultivation around the world.
This species of banana is grown for its dramatic flowers. Large pink bracts fold back revealing rows of small lime green finger-like immature bananas with pale orange flowers attached at the ends. The flowers soon fall leaving only the inedible fruit which swell before ripening to a light green or yellow colour. The fruit only reach a length of about 5-6cm long, producing in each fruit a thin layer of pulp with 20-30 black seeds.
Musa mannii forms a clump which increases in size quickly due to producing an abundance of suckers. It thrives with plenty of organic matter, needs to be fed regularly and well watered during the growing season to flower and fruit well each year.
As with most bananas, Musa mannii is unlikely to survive Dunedin's wet and cold winters without frost protection. Musa trunks are made up of leaf stems (pseudostems) that contain large amounts of water in the trunks. Without protection, frosts will freeze the water which expands in the trunk and split them, killing the plant.
Stephen Bishop is the Winter Garden plant collection curator.