Beauty without the Bother
This article was first published on 12 Mar 2013.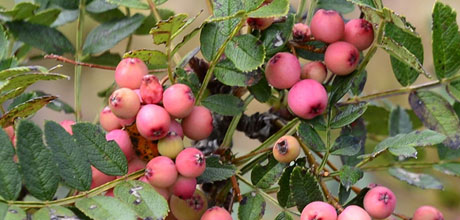 Sorbus aucuparia
You may be familiar with the rowan,Sorbus aucuparia, a tree commonly planted both intentionally by humans, and unintentionally by birds. It has several attractive features including the finely divided foliage, white flowers, bright red berries, and stunning autumn colour. It is, however, rather large, and can be weedy.
There is a delightful, more compact alternative. Chinese dwarf mountain ash, or dwarf rowan, Sorbus reducta, will grow no taller than 60cm, forming a charming miniature thicket.
The compound leaves are boldly serrated, bright green when young, deepening to dark green. As autumn approaches they change to bronze red or purple. The off-white summer flowers are borne in clusters on the ends of the branches, which then transform into bundles of white berries, growing pinker as they ripen. Unlike the common rowan, berries from this tree don't seem to interest birds.
Sorbus reducta is native to West China & Myanmar (Burma). It was collected and introduced to England by plant hunter, Frank Kingdon-Ward in 1943, probably making its way to New Zealand by avid plant collectors not long after this.
This slow growing shrub is perfect for the rock garden or at the front of a border. There are different forms available, some being more unruly by producing suckers which may pop up some distance from the parent plant.
There are several plants dotted throughout the rock garden at the Dunedin Botanic Garden, including near the bottom of the steps leading up to the rock walled Tannock Seat.
Robyn Abernethy is the Rock, Water & Alpine Collection Curator at the Dunedin Botanic Garden