Best of Both Worlds
This article was first published on 13 Aug 2014.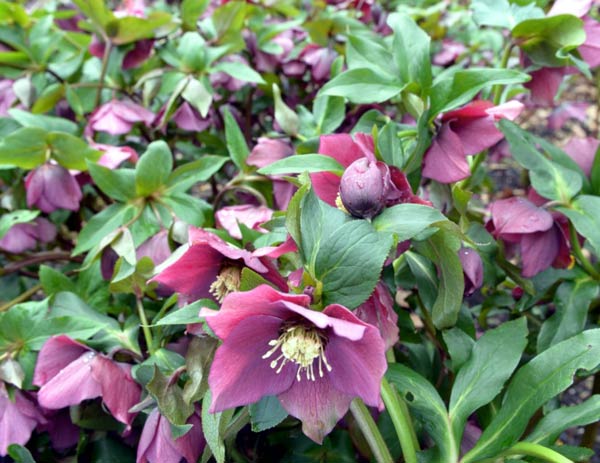 Helleborus 'Flash Gordon'
Occasional glorious sunny days and temperatures that sometimes reach the early twenties can trick us into thinking winter is over. Shouldn't we be layered up, gritting our teeth as constant, fierce, south west storms blanket the hills in snow and chill us to the bone?
Even though it seems strange to enjoy the winter season's plant highs during mild weather, this is when winter flowering plants bring particular joy, along with the weather's intermittent reminder that spring is not far away. Highlights in the lower botanic garden's Clive Lister Garden are:
The large old kowhai (Sophora microphylla), in the centre of the Clive Lister Garden, has been a hive of activity over the last month with tuis and bell birds swarming over the bright yellow flowers. One day I counted nine tuis and seven bellbirds in the tree at the same time.
Scented plants such as wintersweet (Chimonanthus praecox 'Luteus') and selections of witch hazel (Hamamelis ×intermedia) cultivars not only provide bright flowers but fill the air with their perfumed aromas on calm winter days.
Deep red nodding flowers of winter rose cultivars such as Helleborus 'Flash Gordon' are a real eye catcher and hold their colour well into spring, they're a real delight.
Other signs that spring is almost here are the snow drops (Galanthus nivalis), pushing their way through the black mondo grass (Ophiopogon planiscapus 'Nigrescens'). The fine contrast between the white flowers and black foliage looks very effective.
Stephen Bishop is curator of the Clive Lister Garden at Dunedin Botanic Garden.