Big Burr Attracts Attention
This article was first published on 17 Jun 2014.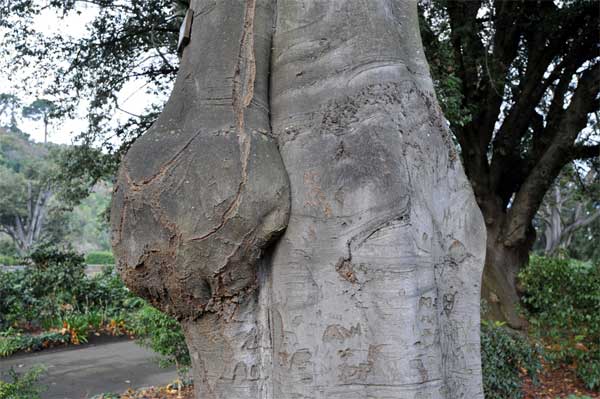 Fagus sylvatica
Burrs on trees cause a mix of reactions, as a beech in Dunedin Botanic Garden's camellia collection is demonstrating. Some people pause to ponder how and what caused the burr, a few stand underneath to have their photo taken with it and others just laugh out loud at its crazy shape. Such a variety of responses come from the variety of people who use the botanic garden - specialists from other gardens, horticulture students, cruise ship explorers, locals with children and students on their way to lectures.
Burrs are simply protuberances on trees. They are rounded or distorted growths, where the internal grain has grown in a deformed manner. They are still covered in normal bark. Burrs are also known as burs or burls. They develop on trunks or branches but are more common underground where they grow on roots. They are a reaction to stress, perhaps from insects, the environment or humans. Once you are aware of them, you notice there are a lot of burrs around.
The burr in this particular case is on the side of a very old European beech tree (Fagus sylvatica) trunk; the large knob is about 1 metre across and roughly round. The European beech is on the west side of the main walk, in the lower garden camellia border just south of the rose garden. You can't miss it.
Burrs provide beautifully intricate and highly decorative wood which is prized by sculptors and wood turners.