Bitter but not blue, a gentian it is
This article was first published on 14 Jan 2013.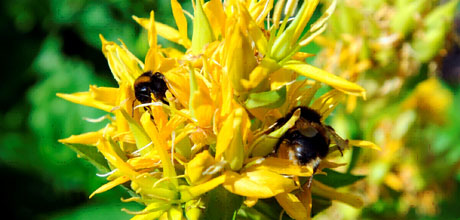 Gentiana
Mention gentian and most people will think of an intense blue. Many of you will have heard of gentian violet, though that dye is not made from this flower, only named after it. The majority of Gentiana flowers are blue or purple, occasionally white or red, or, as in this case, yellow.
Standing above the other species, the great yellow gentian, Gentiana lutea, grows in pastures of central and southern alpine regions of Europe. The flower stems can reach heights of two metres, however in cultivation it is usually less than one metre.
Even when the plant is not in flower, it is conspicuous. Growing in pairs, the leaves are broadly ovate and deeply ribbed. The lower leaves are large, diminishing in size the higher up the stem they grow. Clusters of yellow flowers are arranged in tiered whorls, each whorl carried above a pair of leaves.
Also known as bitter root, or bitterwort, the large tap roots are collected and dried for medicinal purposes. They are also often used as the key flavouring ingredient in the alcoholic beverage known as bitters. Perhaps not being amongst the favoured blues, has made this species bitter?
Plants will live for several years, becoming dormant in winter, and with enough seedlings appearing in the border to ensure its survival.
The yellow tiers of Gentiana lutea can be seen flowering now below the lancewood on the rock garden, in the Lindsay Creek border, and in the camellia borders in the lower Dunedin Botanic Garden.
Robyn Abernethy is the Rock, Water & Alpine Collection Curator at the Dunedin Botanic Garden