Bold Beauty Thrives in Tough Environment
This article was first published on 10 Mar 2015.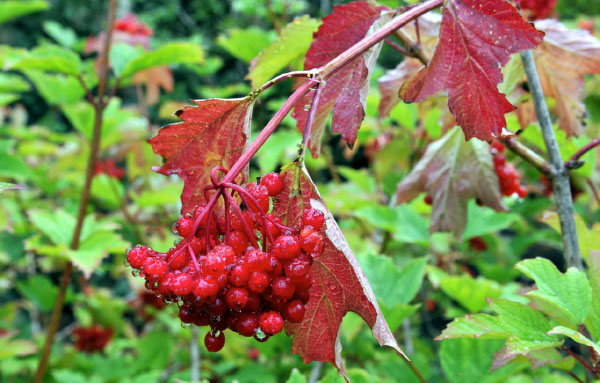 Viburnum
Viburnum is a well-known plant genus, containing some of the best woody shrubs in cultivation. Several have fragrant flowers, autumn colour and showy berries. Over winter, their bold evergreen or deciduous forms provide structure in the garden.
My latest favourite is Viburnum opulus 'Notcutt's Variety' though it is hardly new, having received an Award of Garden Merit from the Royal Horticultural Society in England in 1930.
Perhaps, like me, the judges were seduced by the luscious berries, in which the bushes are now covered. The bright red, shiny fruits hang in dense bunches off the tips of the branches. The fruit is extremely persistent, remaining well into autumn and winter. The leaves are maple-like with 3 to 5 lobes and are just beginning to turn from bright lime green to rusty red, with the contrasts including berries altogether creating a magic effect.
In spring, Viburnum opulus 'Notcutt's Variety' produces clusters of small fertile white flowers, surrounded by infertile showy ray florets. The flowers look similar to a lacecap hydrangea.
You can see this Viburnum growing on the south side of the lower botanic garden carpark directly behind the well clipped planting of Lophomyrtus 'Kathryn'.
The lower garden carpark border is very poor quality clay soil with large rocks and the remains of building debris. While other plants in this tough environment have struggled, the Viburnum opulus 'Notcutt's Variety' is thriving. A group of five were planted in 2010 and have grown into lush plants, which will eventually establish as 3 metre high shrubs.
Marianne Groothuis is the camellia and theme collection curator at the Dunedin Botanic Garden.