Bulb Lawn a Welcome Spectacle
This article was first published on 09 Sep 2015.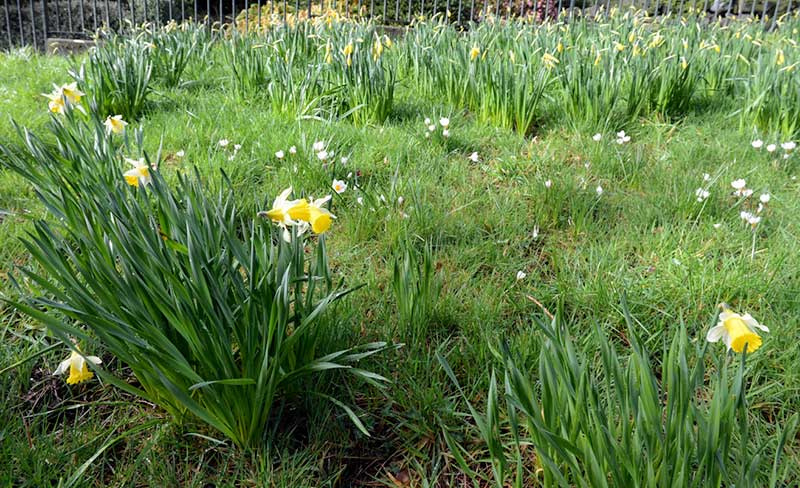 The bulb lawn
Welcome splashes of spring colour punctuate the green bulb lawn just inside the Opoho Road entrance to the Dunedin Botanic Garden Rock Garden. Flowering lasts from late winter through into spring, with even a small spattering in autumn.
The first bulbs were planted in 1992 – Narcissus 'Jack Snipe' and three different Crocusspecies still reliably flower each spring. Since then, various species have been planted with varied success. Fritillaria meleagris struggles; perhaps the soil is a bit too heavy, as this plant is normally very easy to grow. Crocus 'Snow Bunting' is the first up in mid-July, providing a sprinkling of white. A drift of snowdrops, Galanthus'S. Arnott' was more recently planted and has flowered well this year. Winter aconite, Eranthis hyemalismade its first butter-yellow appearance this winter and it should expand into a self-sown colony. Narcissus 'Bambi' and 'Jetfire' are dependably bright in early spring with the later flowering 'Jack Snipe' and 'Geranium' drawing out the flowering season. To further extend blooming, purple and white flowering Colchicum speciosum have been planted, flowering in autumn, with the leaves not appearing until the following spring. A surplus of Cyclamen coum planted in the dry area under the mature Cedrus deodaraproduced only leaves this season, and should flower and set seed next spring.
Precision timing in cutting the grass while the bulbs are dormant is crucial. Leaves must be allowed to die down completely in order to pass vital nutrients into the bulbs to aid with next year's flowering.
Robyn Abernethy is the Rock, Water & Alpine Collection Curator at the Dunedin Botanic Garden.