Bush Clematis Adds Flourish to Urban Gardens
This article was first published on 18 Dec 2015.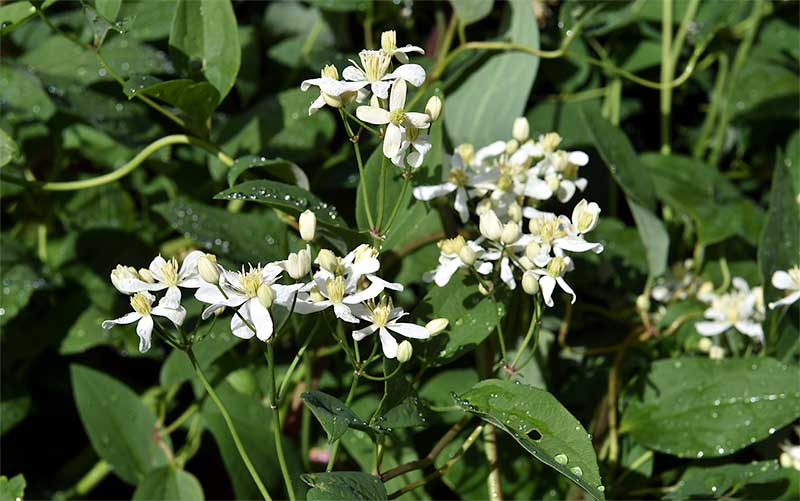 Clematis recta
'Clematis'. This word typically triggers images of multitudes of flowers smothering a beautiful climber. 'Clematis' is even derived from the Greek word for 'climbing plant'. Great when you have a wall, tree or bank for it scramble down or over, but for the smaller garden, there are shorter options. The following two European species are both classified as bush or herbaceous clematis.
Clematis integrifolia has been in cultivation for centuries, being introduced into England gardens from southern Europe in 1573. It grows up to 1 metre and most commonly has nodding velvety purple flowers, occasionally with white and rose forms.
Clematis recta is more sprawling and can reach up to 2 metres. The flowers are small, starry and white and produced in masses on the shoot tips. It naturally sprawls through shrubs and other perennials along woodland margins in central and southern Europe, and central and western Russia.
On both species, the flowers are produced on the current season's growth. Therefore, prune back hard to near ground level in autumn to allow new shoots to sprout from the base the following spring. They are best grown amongst other plants in order to borrow the support of their neighbours. Flowers are followed by the characteristic fluffy ornamental seed heads.
Clematis recta has been flowering at Dunedin Botanic Garden for a fortnight, scrambling through foxgloves and witch hazel, with the shorter C. integrifolia coming into flower beside it. They are in the border alongside Lindsay Creek just opposite the bandstand.
Robyn Abernethy is the Water, Rock & Alpine Collection Curator at Dunedin Botanic Garden.