Changing Tones over Time
This article was first published on 18 Jan 2012.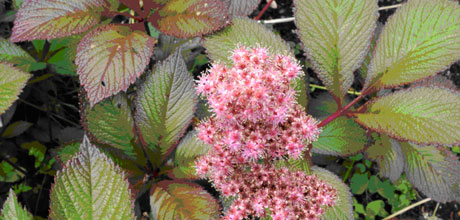 Rodgersia pinnata
In the Rhododendron Dell at Dunedin Botanic Garden, one of the stand-out herbaceous plants at the moment is Rodgersia pinnata 'Superba'. Although it is not as tall or even as robust as many of the plants around it, it certainly has a strong presence. Growing in the border to the west of the Cherry Walk, it is flanked by towering Cardiocrinum, broadly mounded Hosta and dense clumps of Inula, but draws our attention with a strong blend of colour, form and texture.
The leaf stalks and flower stems are a deep wine-red providing the base colour that sets the tone for the whole plant. When the leaves emerge they are flushed with the same red, giving them a bronze appearance. This gradually recedes to a one centimetre band around the serrated margin of the leaf, which for me is the most attractive phase, before the leaf finally clears to dark green. Deeply etched veins in the leaves also add substance and design.
Accompanying the changing tints of foliage, the 1m flower stems unfurl branched heads in a froth of tiny pink stars. They add the finishing touch and make the perfect compliment to the strongly coloured stems and dark foliage. The show is not quite over yet though because the flowers then turn to deep red seed capsules that last into autumn.
Moist, woodland conditions suit Rodgersia best, but I have them growing in almost full sun where, given regular water, they are still quite happy.
Doug Thomson is curator of the Rhododendron Dell at Dunedin Botanic Garden