Cheery Flowering Time Due to Parentage
This article was first published on 09 Aug 2017.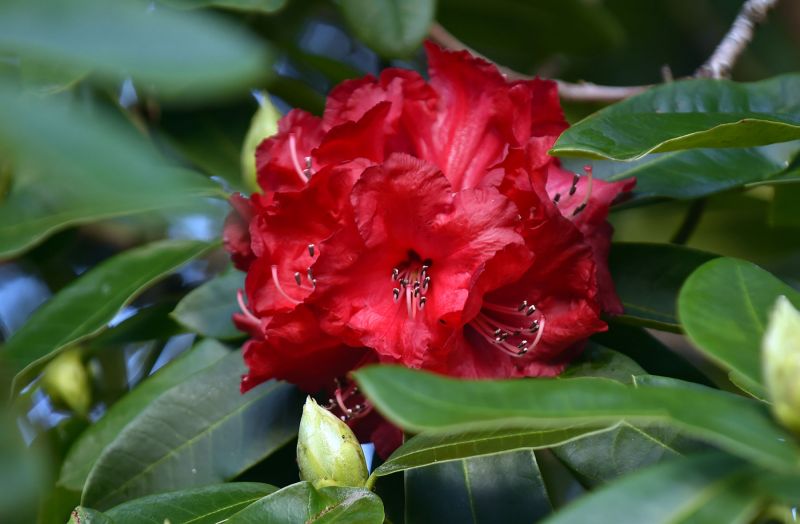 Rhododendron 'Cornubia'
Photo by the Otago Daily Times
In the mid-winter woodland garden there's nothing like the glow of red rhododendron blooms to cheer the spirit. In the Rhododendron Dell at Dunedin Botanic Garden, Rhododendron 'Cornubia', where buds were catching the sun, began flowering over six weeks ago. There are a couple of specimens to catch the eye with their blood red blooms contrasting perfectly with the deep green leaves. One is at the south west exit from the Azalea Garden, and the other is on the edge of the native bush below the tall Pinus radiata on the west side of the Dell.
Rhododendron 'Cornubia' is a cross between three red flowering species R. arboreum ssp. arboreum, which flowers early to mid season, R. thomsonii, sometimes flowering early, but usually mid to late season and R. barbatum from very early to mid season. As a result of these flowering time influences in its breeding, R. 'Cornubia' can flower from late June to late September, or even early October.
The form of R. arboreum used in its breeding is the blood red form, which comes from lower elevations in the wild, so is less hardy than other forms of R. arboreum from higher colder elevations. R.'Cornubia' has inherited a similar sensitivity so is best grown in milder areas where the flowers and buds won't succumb to damaging frosts.
So, thanks to these three rhododendrons in one, we benefit from up to three months of rich red flowers ideal for lifting the mid-winter mood and beyond.
Garden Life is produced by Dunedin Botanic Garden. For further information contact Doug Thomson.