Climbing Roses Add a Further Dimension
This article was first published on 29 Nov 2013.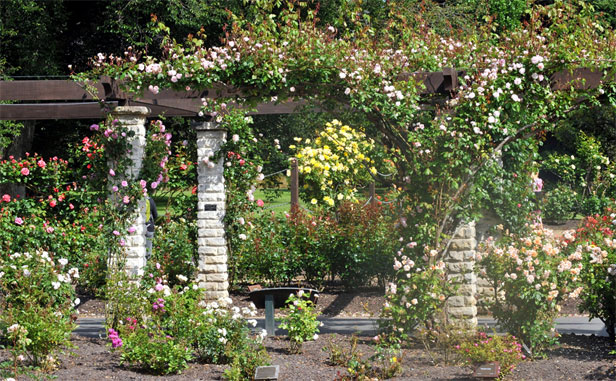 Rosa.'Pinkie, Cl
Climbing roses are a worthy addition to any garden. If room allows in your garden, consider the vertical and horizontal dimensions that climbers can highlight.
Climbers have a wide variety of growth habits, from the small patio climbers likeRosa 'Sugar Plum' and R. 'Warm Welcome' and the pillar climbers like R.'Pinkie, Cl.', smothered in a mass of bright pink flowers.
Then there are the modern climbers which repeat-flower like R.'Westerland' with deep salmon apricot flowers in large sprays. R.'Coconut Ice' has masses of fragrant creamy pale pink flowers that fade to white.
Finally there are the ramblers which are more vigorous and require a bit more room to grow. They produce lots of long new stems from the base. R.'Wedding Day' has masses of lovely single white flowers and R.'Madame Alfred Carrière' has clusters of large pinky-white flowers.
All can be trained to grow up walls, trellis pergolas etc. To encourage more flowers the canes can also be trained in a horizontal direction. At Dunedin Botanic Garden we have trained a lot of climbers on the horizontal along the chains in the middle of the rose beds. The rest are trained up the pillars on the main walk then on the horizontal wires above.
To help with selecting a new climber take a walk through the Dunedin Botanic Garden rose garden or check out the Otago Rose Society annual show this weekend at Forbury Park Raceway.
Linda Hellyer is curator of the rose garden at Dunedin Botanic Garden.