Coats of Changing Colours
This article was first published on 03 Jul 2013.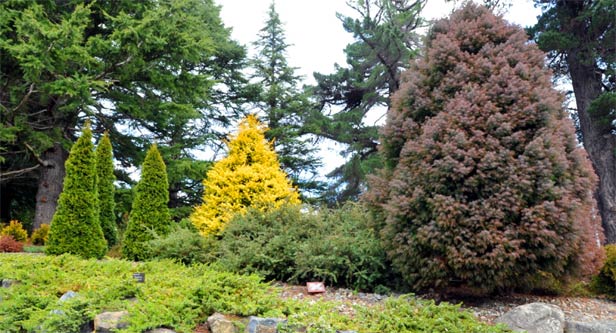 Coats of Changing Colours
As some plants prepare for winter chill by heading underground or dropping their leaves, many conifers don a more intensely coloured winter coat.
Transforming totara
Podocarpus lawrencei is a ground covering totara from Tasmania and southern Australia. The cultivar 'Purple King' was selected for its unusual colour contrasts. Light fawn spring growth, darkens with age into a shiny purple winter coat.
From our side of the Tasman, the cultivar of the New Zealand mountain totara, Podocarpus nivalis 'Bronze' has small leaves on a flat plant, bronzy green over summer deepening to winter bronze.
The larger Podocarpus totara 'Aureus' is very striking. I'm not entirely sure whether this tree actually intensifies in colour or if it just stands out more in the duller winter light.
Cryptomeria conversion
Changing from light purple green in summer to plum when cooler, Cryptomeria japonica 'Haggo' forms a stunning conical shaped tree. At other end of scale, the compact ball of Cryptomeria japonica 'Compressa' is fresh green during summer with the leaf tips bronzing in winter.
Arborvitae alteration
Commonly known as arborvitae, Thuja occidentalis has given rise to many cultivars. 'Woodwardii' stays compact and round with green foliage taking on a bronze winter hue. 'Ericoides' has finer weeping foliage, dull green reverting to purplish brown.
All of these plants are growing at Dunedin Botanic Garden in the Conifer Cultivar Collection at the north end of the Rock Garden. This collection has recently been extended and I will be watching with interest over coming seasons as this new planting develops.
Robyn Abernethy is the Rock, Water & Alpine Collection Curator at the Dunedin Botanic Garden