Cornus controversa
This article was first published on 27 Nov 2010.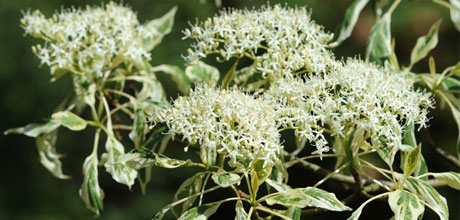 Corunus controversa
Variegated plant works well in border
Variegated plants, especially variegated trees and shrubs, are ones that people either love or hate personally, I don't mind variegations in ground cover plants such as hostas. However one small variegated tree that really takes the cake is the wedding cake tree, Cornus controversa 'Variegata' which can be seen growing in the Clive Lister Garden in the lower botanic garden.
I like this plant because of the form it takes with the branches forming distinctive layers or tiers, hence it's common name. It forms a small rounded tree that will eventually reach about 8 metres high with a similar spread. The leaves are bright green with a creamy-white edge that produces tints of red and purple in the autumn before winter leaf loss. Clusters of small white flowers sit above the foliage in early summer followed by small black fruit in late summer.
The wedding cake tree requires little maintenance, because of its growth habit, doesn't require pruning and if it is planted in a suitable location it will be happy for years. Plant in full sun or partial shade and provide good, fertile, well-drained soil with plenty of organic matter mixed in.
Cornus controversa 'Variegata' with its slow growing habit makes a fine specimen tree for the home garden providing there is enough room for its horizontal spread. It can be used as a lawn specimen or in a border where perennials can be underplanted beneath the spreading branches.
Stephen Bishop is collection curator of the Clive Lister Garden at Dunedin Botanic Garden.