Cull to be Kind
This article was first published on 31 Aug 2021.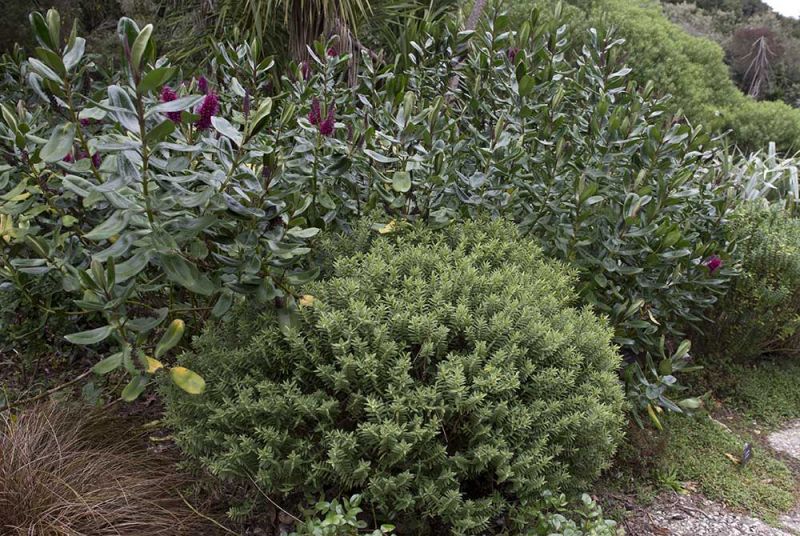 Hebes
Photo by the Otago Daily Times
Good gardening is not only about creating. It's also about editing. Renewal and replacement of plantings is an essential part of garden maintenance.
As your garden matures, don't be afraid to say a discerning goodbye to shrubs that become overgrown or decline in beauty or vigour. Some plants can stay for a good time, not a long time.
Hebes (Veronica) generally fit into this category. Good pruning and soil will help prolong their health but after five or ten years they can start to go downhill. Once they become leggy, misshapen and bare, it might be time to play grim garden reaper.
If concerned about losing a favourite variety or eliminating a valuable nectar and pollen source for bees, don't fret. Hebes are one of the easier natives to grow from cuttings, so if you're green-fingered you can produce a whole army of clones to supersede your victim.
Dunedin Botanic Garden has a historic collection of Veronica species displayed in a long border next to the daffodil lawn by the upper garden carpark. In contradiction to the bold advice suggested above, many are much older than ten years. Layers of mature shrubs, ground covers and trees showcase the range of shapes and styles possible in this large genus.
Some are well due for replacement. Rare and characterful specimens are treasured but watch for fresh and exciting plantings that pop up in the gaps as some are gradually propagated and replaced.