Cynara cardunculus
This article was first published on 27 Nov 2010.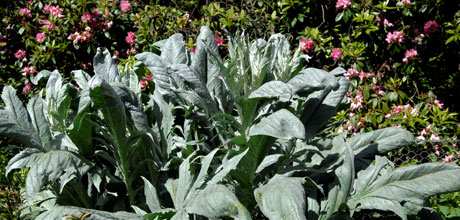 Cynara cardunculus
Solid Statement from Wild Form of Artichoke
At first glance when the cardoon is in flower, you may be forgiven for thinking that you are looking at a luminescent fibre optic lamp, in shades of purple. When not in flower, the wild form of artichoke possesses striking, pointed silvery-grey leaves, acting as a mantle to the fleshy green buds.
My first encounter with this captivating plant was as a student gardener in with the National Trust for Scotland, where it was grown as a specimen plant in the formal garden of Threave, near Castle Douglas.
On my arrival in Dunedin, I was pleased to see this old friend, as a notable feature of the "Long Border" at the Botanic Garden, with the first of many specimens standing like a sentinel just to the left of the main gate. The plant provides a magnificent backdrop to the myriad of colours and textures along the border.
Earliest references go as far back as fourth century BC Greece and it has remained popular in cuisine across the Mediterranean region, particularly those of Southern France, Spain and Italy, where not only are the flower buds eaten in a similar way to the artichoke, but the stalks can also be cooked.
Although Cynara cardunculus requires a long cool growing season, its ability to adapt to dry climates makes it easy to thrive in sunny, frost free conditions.
Gordon Graham is the Collection Curator in the Rose and Herbaceous Collections.