Daffodil spreads and flowers freely
This article was first published on 07 Oct 2016.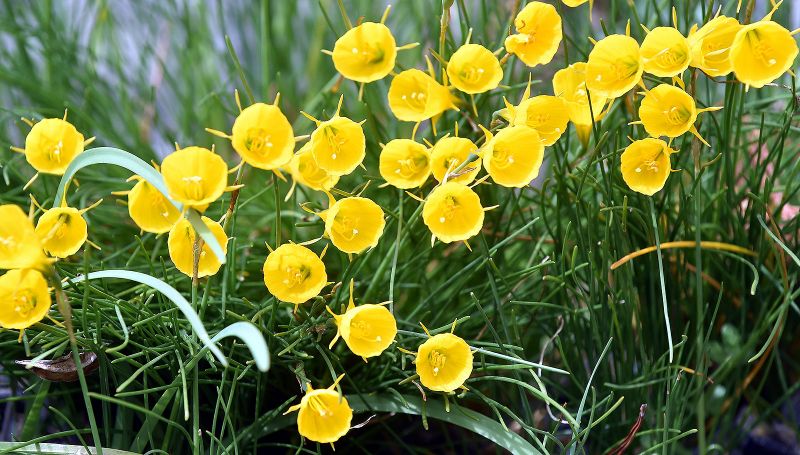 Narcissus bulbocodium
Photo by the Otago Daily Times
A favourite since my childhood is the bright yellow hoop petticoat daffodil, Narcissus bulbocodium. The grass-like foliage appears in clumps in late winter followed by bunches of lightly scented flowers in early spring. Very variable in flower size and colour – from lemon to deep butter yellow - the central trumpet, or corona is flared and large in comparison to the tiny thread-like outer segments, or tepals. Inside the corona, the stamens are prominent and slightly curved.
The trumpet resembles a Victorian whalebone hoop petticoat, hence the common name. They are native to southern and western France, Portugal and Spain where there is great variability in flower size and colour.
Botanists have endeavoured to divide the species into several different varieties, however it has proved difficult to distinguish them with any great certainty. The pale lemon or white flowering plant from Morocco is now considered variable enough to be a separate species.
Hoop petticoat daffodils will multiply to form clumps reasonably quickly and look stunning when growing en masse. Easily grown in a free draining soil in sun or semi-shade, this daffodil also looks great in pots and in troughs planted amongst other rock plants, and can even be naturalised in a bulb lawn or alpine meadow. The variety growing on the rock garden at the Dunedin Botanic Garden multiplies and flowers freely, with many swaying clumps of green and gold scattered throughout.
Robyn Abernethy is the Rock, Water & Alpine Collection Curator at Dunedin Botanic Garden