Defining Feature Comes to Light in Winter
This article was first published on 21 May 2014.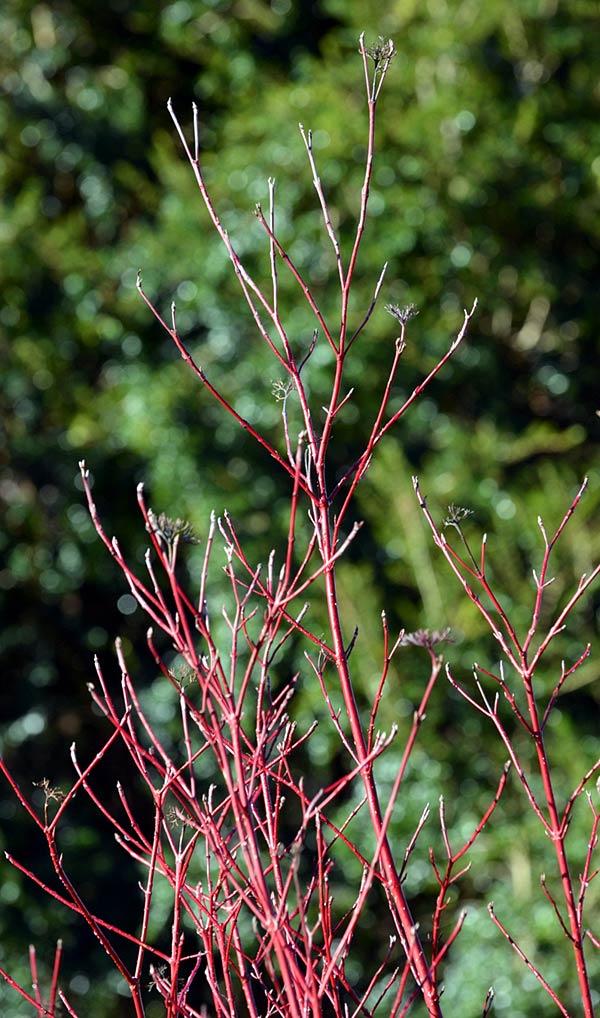 Cornus alba
The more familiar I am with a plant, the easier it is to remember the scientific name as I relate it to the plant's origin, habit or characteristics. However, I tend to hesitate briefly before knowledgeably divulging the botanical name of red-barked dogwood, having to check with myself, "Is that right?" The genus Cornus I can relate to, but the specific name alba, Latin for white, just doesn't seem quite right; read on...
Cornus alba is native to Siberia, and north China through to Korea. In its natural habitat it spreads by suckers producing straggly thickets up to 3 metres high. Clusters of small white flowers (hence alba) appear in early summer and can be almost hidden by the foliage. Blooms are followed by white or blue tinged fruit. Autumn leaf colour can sometimes be beautiful. All of these characteristics are good features, but the real beauty lies in the bark.
If old growth is removed near ground level in early spring, new vigorous growth develops wonderfully smooth bark which becomes a vivid red over the winter months. This is where Cornus alba really excels. It lights up a dull winter day, looking absolutely stunning when plants all around it are glistening white with frost.
Considering this feature, I would much have preferred this plant's species name not to have referred to the mediocre white flowers but rather, to the significant red bark, with "rubra" which is Latin for red.
The brilliant red stems can be seen in the Water Garden and the Thematic Borders in the lower botanic garden.
Robyn Abernethy is the Rock, Water & Alpine Collection Curator at the Dunedin Botanic Garden.