Dunedin Botanic Garden Aviary Delivers Information Critical to Sustaining Biodiversity
This article was first published on 16 May 2019.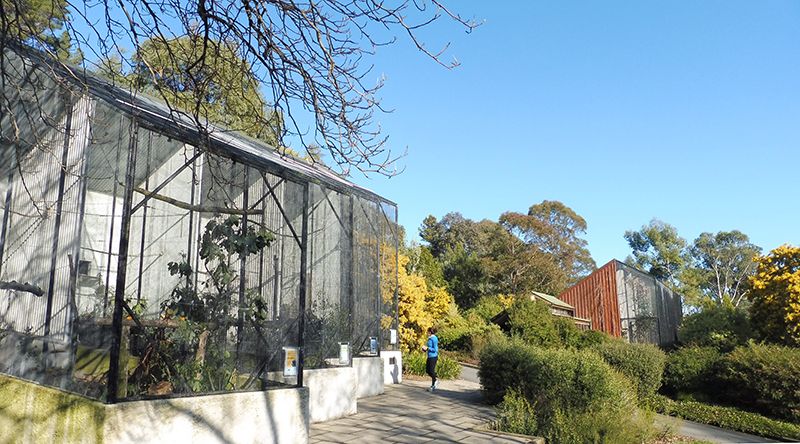 Aviary north winter
Photo by the Otago Daily Times
Species360 is a non-profit global organisation that works with more than 1,100 zoos, aquaria, universities, research and governmental organisations to improve animal welfare and species conservation. Dunedin Botanic Garden aviary is a member and is required to use best practice in husbandry, enrichment, medical care, welfare, reproduction, population management and biodiversity.
Predicting when species are at risk, and how best to boost populations, requires knowing at what age females reproduce, how many hatchlings or juveniles survive to adolescence and how long adults live. Despite volumes of data currently available on humankind, it is surprising how little we know about other species. But members of Species360 have recorded critical data such as fertility and survival rates for more than 98 percent of known species of mammals, birds, reptiles, and amphibians.
Together, Species360 members curate the Zoological Information Management System (ZIMS), the world's most comprehensive records database of knowledge on more than 22,000 species. ZIMS vastly increases what is known about thousands of species and is instrumental in identifying sustainability strategies for many of the species assessed as vulnerable, endangered, and extinct in the wild.
Dunedin Botanic Garden aviary has been contributing data on the collections since 1994 - 893 birds from 91 species - making a significant impact on the understanding of those species' life histories in captivity. The aviary will continue to contribute and focus on conservation, advocacy and education as well as best practice in husbandry and housing for the bird collection.