Dunedin Climate Favourable for Growing Succulents
This article was first published on 05 Jun 2012.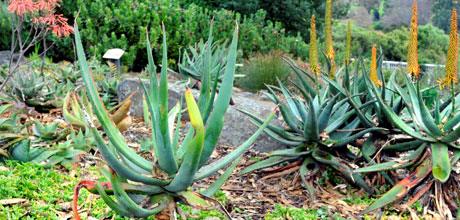 Succulents
With a little bit of help it is amazing the number and variety of succulents that will grow outside in Dunedin, if given the right spot and conditions. Our climate is not as extreme as we, or at least the rest of New Zealand, might think. Our frosts are often brief and many succulents can take cool nights.
Drain Well
It is often not the cold that will kill them but a combination of wet and cold. The site needs to be free draining to reduce the amount of moisture around their roots. Add plenty of drainage material when planting.
Optimise Location
The other key to a successful location is as much sun as possible. Our summers are not as hot as many of these plants would experience naturally so try for a north facing aspect with little shade.
A large tree will protect the plant from frost but make sure it is open enough to let in the sun. The wall of a building also protects from frost and has the additional benefit of radiating warmth absorbed from the sun's heat.
Mulch Up
The benefits of gravel mulch placed around the plants, or aesthetic rocks amongst them should not be under estimated. Even small rocks absorb heat during the day and radiate it out at night, helping to maintain a more even temperature. A bonus is they help keep weeds at bay.
See Them in the Flesh
Visit Dunedin Botanic Garden to see succulents that grow outside. See the upper garden's Southern African Garden and the Mexican border of the Geographic Collection.
Dylan Norfield is the Collection Curator of the Geographic and Arboretum Collection at Dunedin Botanic Garden.