Eat for Conservation
This article was first published on 02 Nov 2011.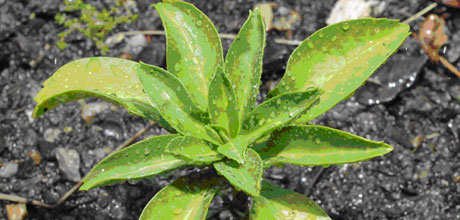 Lepidium
Have you ever wondered "What can I do for the conservation of our native plants?" Sometimes the answer starts at home. If it wasn't for the garden worthiness of some plants, many could already be extinct.
Not all rare plants have obvious floriferous appeal but may offer even better advantages. One such plant is nau, also known as Cook's scurvy grass or Lepidium oleraceum. Once widespread around the coastal regions of New Zealand, nau is listed as nationally vulnerable by the New Zealand Plant Conservation Network
This native herb is a very tasty vegetable and deserves a place in the home garden. Tradition refers to Captain Cook recognising that Lepidium might help his sailors avoid the illness scurvy, caused by vitamin deficiencies. Records suggest boat loads of nau were eaten by Cook's crew.
Survival in the wild is threatened by grazing stock and introduced pests and disease. It is also indirectly threatened by introduced animals reducing seabird populations which in turn, can no longer leave their rich droppings that contributed to soil fertility.
All parts of the plant are edible.
Plant in a sunny, fertile spot with good drainage and apply a side dressing of chook-poo every nau and then.
Available from specialist native nurseries. Once established collect your own seed for future sowing.
Never remove plant material (including seed) from wild populations.
See in the Divaricating plants border of the New Zealand Native Plant Collection at Dunedin Botanic Garden. This is beside Lovelock Avenue, opposite the Botanic Garden Centre.
Shirley Stuart is curator of the Native Plant Collection at Dunedin Botanic Garden.