Elder Useful for Birds and People
This article was first published on 13 Dec 2013.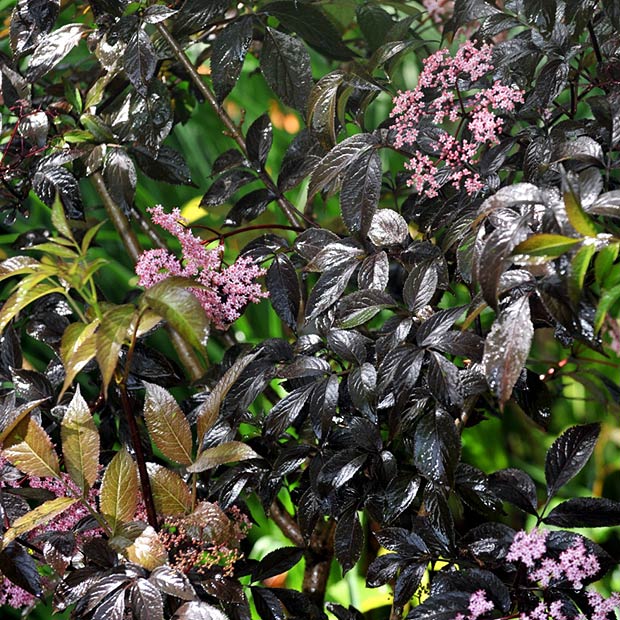 Pink Flowered Elderberry
Type 'elderberry' into an internet search engine and you'll get anything from how to eradicate a nasty weed to wonderful recipes and health remedies. It is a tree I associate with my childhood – the distinctive smell of the leaves, wood, flowers and berries instantly transport me back in time. In more recent years I have discovered the refreshing qualities of elderflower cordial – superb on a hot Dunedin summer's day.
We don't intentionally grow the common elder, Sambucus nigra in the Dunedin Botanic Garden. Green leaved, with white flowers in spring, followed by shiny black berries in summer, it is food for the birds – my mother's sheets were proof of that! Bird droppings are an excellent method of seed dispersal, making it a successful weed.
In the southern Lindsay Creek border in the lower Botanic Garden, there is an intentional elderberry planting. It is a rather stunning cultivar named Sambucus nigra 'Storm Cloud'. It has pink florets which are set off beautifully against dark purple foliage. Growth is much lower than the species and it produces suckers to eventually form a thicket. It is easily pruned to contain the size, flowering on the new growth from mid spring.
The shrub will tolerate dry periods once established, and is best in full sun, however the flowers stand out beautifully against the foliage when grown in part shade.
As an aside, I have experimented, and have proof that cordial made from the pink flowers does turn out a rather delicious rosè.
Robyn Abernethy is the Rock, Water & Alpine Collection Curator at the Dunedin Botanic Garden