Eye-Catching African Thrives with Care
This article was first published on 25 Feb 2015.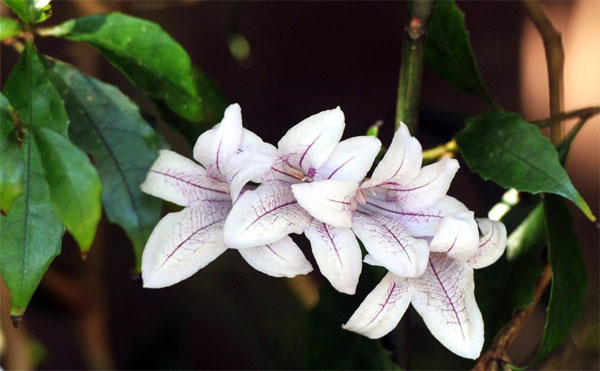 Mackaya bella
An added bonus of this year's long, hot summer is the remarkable display of blooms on Mackaya bella. Tucked in a shady spot on the edge of a patch of native bush at Dunedin Botanic Garden, it normally flowers rarely, if at all. This year though, its mauve to white flowers are scattered across it liberally and catch the eye in the Rhododendron Dell, under the big pine tree surrounded by woodchip.
On closer inspection the flowers also sport fine purple lines that accentuate the curve of each petal, giving them a refined appearance. The evergreen foliage is dark and glossy with serrated margins around the leaf tip and is carried on a profusion of fine cane-like stems about 1.5m.
Coming from the Eastern Cape, Kwazulu Natal and Limpopo in South Africa, and from Swaziland, it is best suited to subtropical to temperate regions, but given shelter it will tolerate cooler climates. Although it often grows naturally along stream edges and is known as the river bell, Mackaya is certainly tolerant of dry shade as its position in the Rhododendron Dell testifies. It is likely to flower better in more sun, but the foliage may go yellow in this situation.
I have pruned away some branches from the neighbouring trees so that in the coming years we might benefit from increased bloom even in more normal Dunedin summers but have left enough protection for the foliage. It is also frost tender, so the overhead canopy also helps protect it in winter.
Doug Thomson is curator of the Rhododendron Dell at Dunedin Botanic Garden.