Falling in love with a stranger
This article was first published on 01 Oct 2014.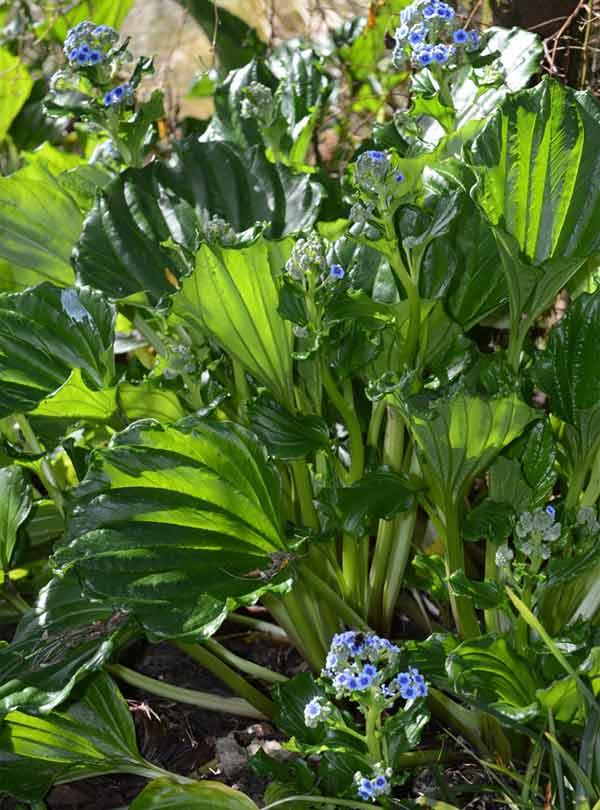 Myosotidium hortensia
For me, as a gardener from far away, the otherness of the New Zealand native flora is thrilling. Between the many new shapes and appearances, those plants catch my attention that have that outlandish appearance but do still look vaguely familiar.
On my first stroll through the Native Plant Collection at Dunedin Botanic Garden, it was the large glossy leaves of a plant that caught my eye. The first thing that crossed my mind was "This looks like a giant broadleaf plantain!" But... a few weeks have passed since and that is where my love story truly begins: Between the impressive leaves, on strong stems, one by one, pretty little flowers expose their face to the sun.
"They look like forget-me-nots!" is what strikes my mind now – the flowers numerous and elegant with a most beautiful blue. Although the Chatham Island forget-me-not (Myosotidium hortensia) is not a forget-me-not in the narrower sense, it belongs to the same family, Boraginaceae.
Myosotidium hortensia prefers rich and moist soil in partially shady spots and grows slowly yet big, up to 60 cm in height and width.
If I was free to pick a match for this beauty, I would plant it beside pink astilbes and white Astrantia major which also prefer the moist and half-shady conditions.
Myosotidium hortensia will be in flower throughout spring and can be seen in many different flower beds all around Dunedin Botanic Garden.
Marie Caroline Jung is an international student at Dunedin Botanic Garden from the University of Osnabruck in Germany.