Flower Feature in Winter Garden Glasshouse
This article was first published on 26 Jan 2012.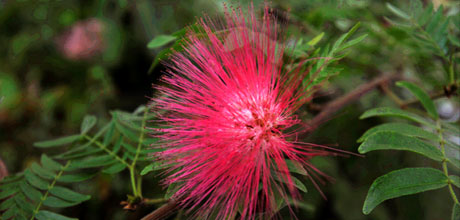 Calliandra
Bright pink fuzzy flowers are putting on a fantastic display at Dunedin Botanic Garden. In the east wing of the Winter Garden Glasshouse is a striking shrub or small tree that is covered in flowers. Calliandra haematocephala is more commonly known as the powderpuff tree.
In the right conditions it happily flowers from late spring right through to autumn. Native to South America, the powder puff tree needs plenty of sun, shelter from wind and frosts and good drainage to perform well. Our southern winters would not be kind to this plant so it needs the protection of a glasshouse or conservatory.
The name Calliandra is Greek for beautiful stamens and haematocephala translates to blood head, referring to the powder puff flowers.
New foliage starts out with a bronzy pink tinge, turning green as the leaves mature. The soft feathery leaves contrast well with other bold foliage subtropical plants such as Dieffenbachia, Cordyline and Zingiber (ornamental ginger).
The flower buds look a little like raspberries and once open the flowers are up to 8cm across. New buds form on the old flower spurs so when one flower has finished another will replace it soon after.
In the wild the flowers are a deep blood red but in cultivation they seem to range in colour from red, pink to white but most commonly pink flowers are produced.
Stephen Bishop is curator of the Winter Garden Glasshouse at Dunedin Botanic Garden.