Flowering Tree Stands Out
This article was first published on 16 May 2012.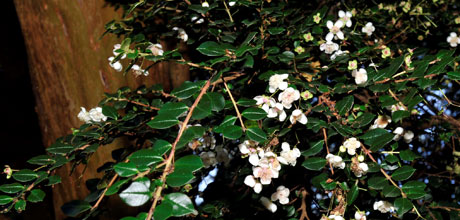 Luma apiculata
Dunedin Botanic garden is aflush with wonderful autumn displays. But amongst all the blazing colour is a mass of white, cup shaped flowers smothering the evergreen tree Luma apiculata.
This slow growing mature tree has a wonderful multi trunk base. The smooth, grey to bright orange-brown bark regularly peels off to reveal a lovely cream coloured surface.
Flowering is from late summer till autumn. After flowering the tree is covered in masses of blue and black fruit, edible and sweet but not highly regarded here. The small oval aromatic leaves smell like lemon when crushed.
Uses
Native to the Central Andes Mountains between Chile and Argentina, its fruit is appreciated for its medicinal uses and its flowers for honey production. Luma is suitable for hedging and can also be trained for bonsai.
Cultivation
Luma apiculata is an easy care evergreen that slowly becomes a small tree of around 10-15m in height. Pruning is generally not necessary, however if desired, prune in spring to shape and reduce in height.
Location
See Luma apiculata at Dunedin Botanic Garden by the rose garden entrance from Gt King St.
Linda Hellyer is curator of the rose garden and herbaceous borders at Dunedin Botanic Garden