Flowers Resemble Food
This article was first published on 05 Nov 2014.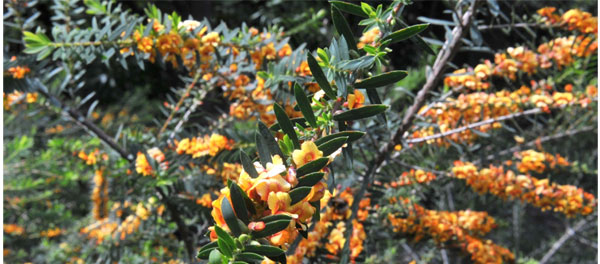 Eutaxia myrtifolia
If only we had a fried bread plant, then along with Eutaxia myrtifolia, the 'egg and bacon' plant, we could have a full breakfast. The unusual nickname comes from amazing dark red and yellow flowers which from spring through to early summer are the star of this plant and can engulf the leaves, making a real eye catching show. Once the flowers have finished, the fine, linear foliage gives a soft feel and look to the plant.
Eutaxia is native to Western Australia, extending from the coast to moister inland areas. It is an adaptable species that can tolerate salt spray, so is great for coastal gardens but is also at home in a woodland area.
In full sun it will form a more compact, dense plant, whereas shade will encourage an open habit up to 2 metres tall. If space is limited a smaller cultivar Eutaxia myrtifolia 'Nana' is available, which has a neat form and sits well in a pot or rock garden.
For optimum growth, plant it in a moist, organic, free-draining soil. If it grows quickly it is best to prune regularly to retain a compact shape. Prune new growth by two thirds in late February after flowering has finished; this helps to reduce leggy plants and prolong the plant's useful horticultural life. Eutaxia can be seen in full flower now in the Australian borders of the Geographic Plant Collection near the aviary, at Dunedin Botanic Garden
Dylan Norfield is Collection Curator of the Geographic and Arboretum Collection at Dunedin Botanic Garden.