Forest Plant Prospers in Garden
This article was first published on 26 Oct 2016.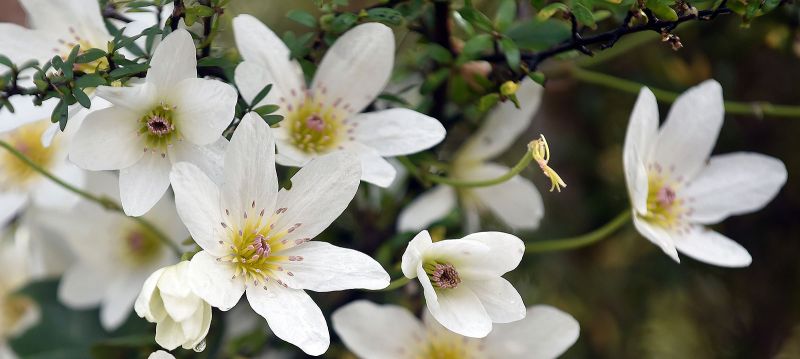 Clematis paniculata
Photo by the Otago Daily Times
If I was the marrying type, I would time my wedding to coincide with one of my favourite spring flowers: Clematis paniculata, or puawhānanga ('flower of the skies'). Inspired by the trees of our native forests, I would crown myself with trailing garlands of its pure white blooms.
In the wild, this woody climber (or liane) finds its way from the deep, cool soil of the forest floor to high in the canopy. A splash of white appears against the dark green bush: beautiful puawhānanga flowers, a harbinger of spring in New Zealand.
The showiest and most popular of nine native Clematis species, puawhānanga is starring in the native plant collection at Dunedin Botanic Garden. If you are travelling along Lovelock Avenue, look for the bright white flowers rambling over garden shrubs and climbing up support wires outside the new propagation facility.
If only our native clematis species were as easy to establish as their exotic relative, the infamous old man's beard (Clematis vitalba). Compared with puawhānanga, old man's beard is a thug. It forms dense, heavy masses, smothering other plants, layering profusely and seeding freely.
Puawhānanga is not vigorous enough to smother trees, but with a little care, native clematis should romp away and quickly flower. Treat it like the forest plant it is – provide a cool, shaded root run, plenty of humus around the base and consistent moisture. For a natural effect, train it up a tree so it can climb to the light and bloom magnificently in the crown.
Kate Caldwell is curator of the native plant collection at Dunedin Botanic Garden.