Fragrance Greets Visitors to Botanic Garden
This article was first published on 27 May 2015.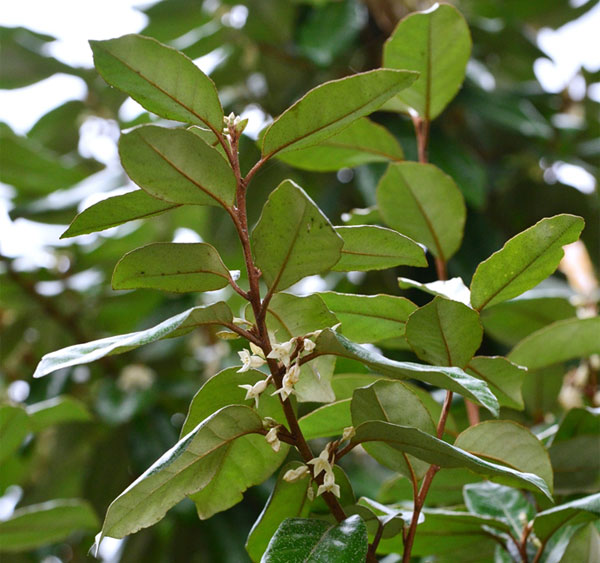 Elaeagnus ×ebbgingei
A plant in the lower botanic garden is capturing attention with its sweet and spicy aroma. The delicious smell of Elaeagnus ×ebbingei, in the fragrant theme border, sneaks up and envelopes you in a rather special way. Even though the fragrance is so strong that it's noticeable up to 10 metres away, it is not intense but a lovely, rich invigorating perfume.
Tough and useful
Elaeagnus ×ebbingei, commonly called Ebbinge's silverberry, is hardy and very tolerant of coastal conditions. Because it forms nodules with bacteria that are capable of fixing atmospheric nitrogen, it makes a good companion plant, improving soil fertility and growth of neighbouring plantings. This tough shrub handles very dry soils as well as full sun to shady conditions. It is of medium vigour, growing up to 5m wide and high, but responds very well to any pruning. As a result, it also makes an excellent hedge.
Flowers, fruit and foliage
Small creamy flowers in autumn develop into attractive fruits over spring. Bright red berries with silver marbling are 2cm long and tapered like a rugby ball.
The foliage on Ebbinge's silverberry is quite striking. The upper leaf surface is glossy dark metallic green and this contrasts dramatically with the shiny silver underneath.
The Fragrant Theme Border
All plants in Dunedin Botanic Garden's fragrant theme border are perfumed in either their flowers or foliage. Turn right after entering the main gates, follow the woodchip path along the border and find the single plant of Elaeagnus ×ebbgingei behind the drift of Illicium 'Lemon Squeeze'.
Marianne Groothuis is the camellia and theme collection curator at Dunedin Botanic Garden.