Fragrant Smell of Spring
This article was first published on 13 Sep 2016.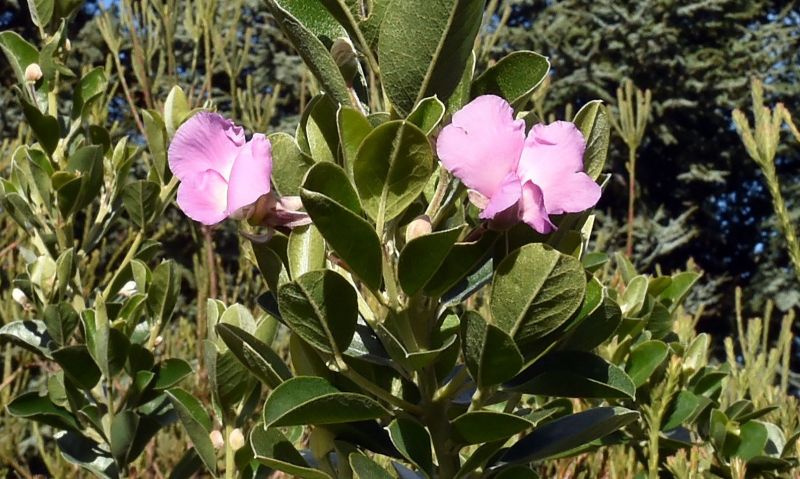 Podalyria calyptrate
Photo by the Otago Daily Times
Who doesn't love sweet peas? Did you know there was a sweet pea bush? It's not actually your conventional sweet pea but no climbing frame is needed.
Podalyria calyptrate comes from South Africa and is known locally in Afrikaans as waterkeurtjie, or water blossom-pea. These common names tell us a lot about the plant and the conditions it likes. It does come from the family Leguminosae; flowers are large mauve-pink or white and pea-like. Flowers are produced in late winter, ready to open in early spring once the worst of the frosts has passed.
Even though it thrives in moist organic soils it is surprisingly tolerant of dry and windy locations, forming a large shrub up to three metres tall. If this is too tall then it responds well to pruning, readily re-sprouting from the base if pruned back hard. To keep the plant more compact, regular tip-pruning throughout the growing season after flowering helps to promote a bushier plant.
The flowers are the real star of the show with an amazingly strong fragrant smell that is reported to fill valleys in its natural habitat. They are also a major food source for bees and other insects. The buds all have a distinctive covering, described in the specific name calyptrata meaning 'bearing a cap-like covering'
To see Podalyria calyptrata head to the fynbos area of the Southern African borders in the upper Dunedin Botanic Garden.
Dylan Norfield is collection curator of the geographic and arboretum collection at Dunedin Botanic Garden.