Fraxinus excelsior
This article was first published on 02 Mar 2011.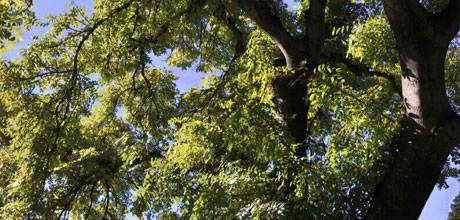 Fraxinus excelsior
Clear Gold of Early Autumn
This graceful, dome shaped tree stands opposite the species rose beds at Dunedin Botanic Garden. Find it near the northern entrance of the Rose Garden. Fraxinus excelsior 'Jaspidea' is particularly notable for its year round interest and has something to offer in every season.
In late spring the opposite pinnate leaves unfold into shades of yellow, before turning a stunning clear gold in autumn. As a last hoorah before winter, it leaves us with attractive golden twigs, tipped by deep black buds. This offers a real treat and can help carry a gardener through until life springs once more in the garden.
The dark purple flowers which emerge in spring, eventually make way for the pendulous green fruit or "ash keys" of autumn. They often remain long after the last leaves have dropped.
This cultivated variety, golden ash, was first introduced into gardens in the late 1870s. It is a form of the European or common ash, which occurs in most of Europe, with the exception of Northern Scandinavia, Southern Iberia.
The tree which has an approximate height and spread of twenty metres by fifteen metres and prefers a fertile, moist, well drained neutral to alkaline soil. It is fully hardy and enjoys a sunny position.
Gordon Graham is curator of the Rose Garden at Dunedin Botanic Garden.