Fritillaria imperialis
This article was first published on 21 Oct 2011.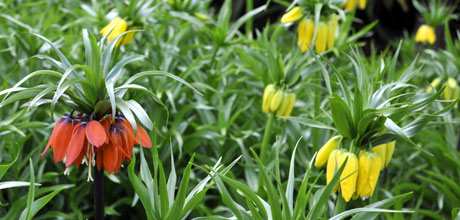 Fritillaria imperialis.
Brighten the borders
Fritillaria imperialis, or the crown imperial as it is commonly known, is a spring-flowering bulb that is much sought after, and with good reason. Its brilliantly coloured flowers brighten up the woodland garden or border with a striking display of yellow and orange.
The leaves emerge from the ground in early spring and grow 80cm to 100cm in height within only a few weeks and then begin flowering.
Fritillaria imperialis has been cultivated since the 16th century in Europe and is often referred to as ''Tears of Mary''. In Christian tradition the crown imperial is the only flower that did not bow its head at the crucifixion of Christ and has bowed and wept ever since. At the base of each flower, drops of nectar form and it is claimed these are the tears the flower has shed since the time of Christ.
Because of the shape of the bulb, it is recommended when planting in autumn to plant bulbs on their side. The top of the bulb where the stem comes out has a depression which can trap water and cause the bulb to rot. Bulbs should be planted at a depth suitable to their size, usually at around 10cm-20cm depth but deeper or shallower if need be.
Fritillaria belongs to the lily family.
Native to a wide area from Turkey through Iran, Afghanistan and Pakistan to the foothills of the Himalayas.
A mass planting can be seen flowering now in the Clive Lister Garden.
Stephen Bishop is the Winter Garden collection curator at the Dunedin Botanic Garden.