From Sandy Shores to Rocky Tors
This article was first published on 21 Feb 2012.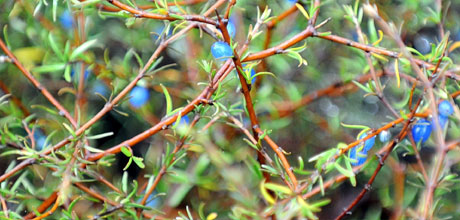 Coprosma
The diversity of New Zealand's plants is matched only by the range of landscapes they inhabit. In many of these habitats there is aCoprosma to be found and with a matching diversity of growth habit and form you can be sure to find one to suit your garden.
For gardeners the drawcard of this genus is in the architecture of the plants, particularly the small leaved species, and the fruit they produce. The fruit provides a colourful display and is an important food source for birds and lizards. The range of fruit colours includes yellow, red, orange, blue and deep purple. Most Coprosma species are dioecious, meaning that male and female flowers are on separate plants. As you need female plants for a fruitful display plant at least 3-5 specimens.
The species you choose will depend on your situation or style of garden. Some of the small leaved species are perfect for small or exposed gardens while there are a number of arboreal species for the larger garden. While not all Coprosma species are readily available commercially you will still be spoiled for choice.
Over 50 species are currently recognised in New Zealand.
Many Coprosma species grow naturally in the bush around Dunedin.
Specimens can be seen in the Native Plant Collection, particularly in the Coprosma and the Divaricating Plant beds in the upper Botanic Garden.
Shirley Stuart is curator of the Native Plant Collection at Dunedin Botanic Garden.