From Scree Slope to Sea Level
This article was first published on 01 Nov 2012.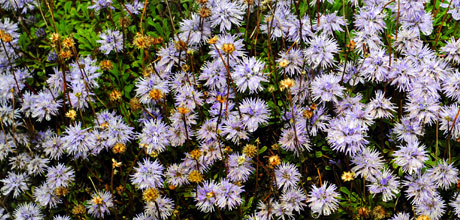 Globularia
Descriptive Latin is often used as the basis of a botanical name. Not only does this make them delightful to pronounce, but has the wonderful side effect of making the names much easier to remember, as we can relate them to the plant. Globularia cordifolia was named in 1753 by Carl Linnaeus, inspired by the spherical flower heads and the heart shaped leaf.
Globularia is in Plantaginaceae, a large plant family including plantain, foxglove, hebe, veronica and snapdragon. It is an evergreen woody based perennial which hugs the ground, crawling over rocks.
The leaves are small, shiny and leathery. A bit like a tiny wooden spoon with a notch in the end, they're somewhat heart shaped. In spring the flower heads are held upright and begin as a tightly packed dark purple ball. As the tiny individual flowers open, the lighter coloured petals expand outwards creating a shaggy powder puff. These last for several weeks.
Globularia cordifolia requires a sunny position with well drained soil and will tolerate drought once it is established. It is great tumbling over a rock garden, or as a ground cover at the front of a border.
Native to limestone scree slopes throughout the European Alps and Pyrenees, it grows well on the rock garden at the Dunedin Botanic Garden where it has been planted in several places.
Robyn Abernethy is the Rock, Water & Alpine Curator at the Dunedin Botanic Garden