Fun and Games on Botanic Garden Play Trail
This article was first published on 06 Nov 2019.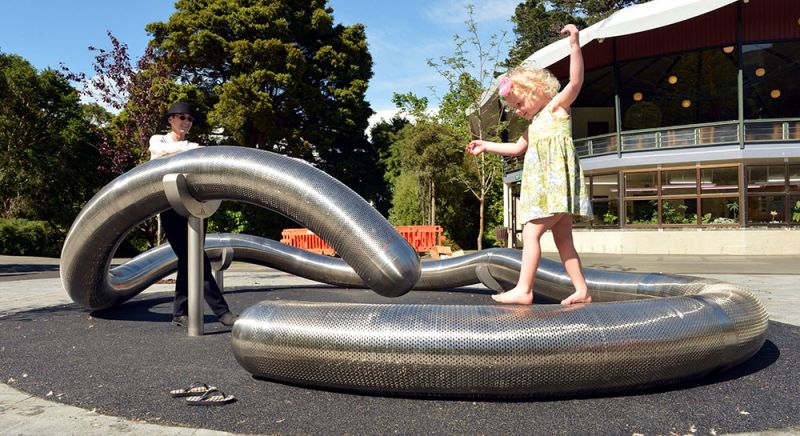 Wooorm
Photo by the Otago Daily Times
Rationing children's screen time has become a bit of a "thing". A new children's trail at Dunedin Botanic Garden makes that job a lot easier for adult carers and lots of fun for children.
The play trail aims to help people to simply enjoy the place. A pick and mix of 22 activities can be chosen at different sites throughout the whole botanic garden. Activities range from the seriously physical to the more sedate and involve all five senses.
People will recognise traditional favourites, such as "dance walk" where the child and adult face each other, the child steps on the adult's toes then the adult walks. Experiential games have been adapted from leading environmental educators but there are no overt educational messages, just the subtle one about how enjoyable it is to be in nature, thus to look after it. Other activities are based on just observing what young visitors already enjoy.
Language is simple, to appeal to children, but the adult carer is still in control and needs to actively supervise.
Primary school children are the ones it most appeals to but that said, even adults like some activities. "Sound map" involves sitting still with closed eyes and listening. On hearing a new sound you point to it and guess how far away it is.
The trail is a self-guided brochure, available from the information centre from Saturday afternoon when it will be launched from to 3 to 4pm with storytelling and prizegiving for the Ignition Children's Book Festival.