Gardens as Therapy
This article was first published on 22 Jul 2019.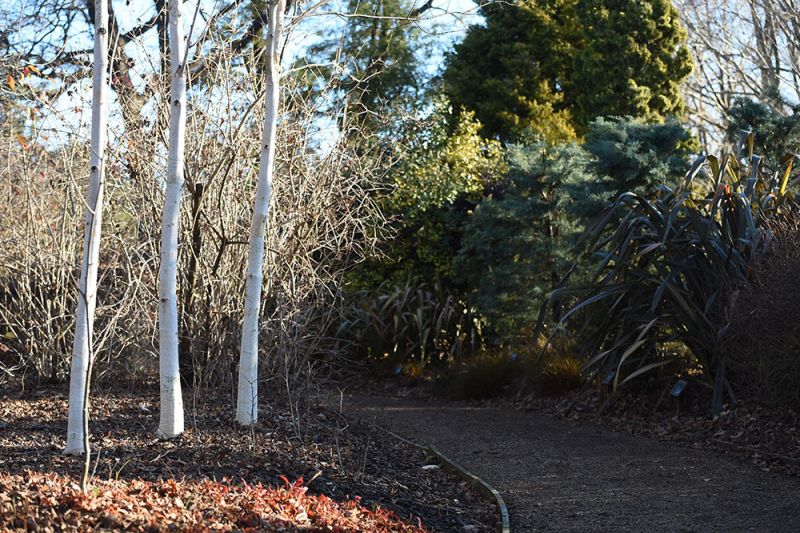 Betula utilis ssp jacquemontii
Photo by the Otago Daily Times
Visual appearance is often the focus of amentity gardening. But we have four other senses that can be underused. In fact, exercising these senses can actually feel quite therapeutic.
Gardens designed specifically for their therapeutic benefits are becoming an emerging trend. Common features include: well defined perimeters such as timber garden edging or boundary walls, wide and gently graded accessible entrances and paths, raised beds and planter boxes and sensory-oriented plants that emphasise colour, texture and fragrance.
While Dunedin Botanic Garden doesn't have a garden designed specifically for therapeutic purposes it has many hidden 'gems' that allow for interaction with the healing elements of nature.
In the Herb Garden you'll find many plants that will engage the olfactories, especially in summer. Right now though, the leaves are fragrant if you give them a wee rub. Seats allow you to sit and soak up the sounds of the tranquil, bubbling fountain and whispers of wind through the trees.
The Azalea Garden is sheltered and sunny enough to sit and enjoy the afternoon sun. If you stay till sunset you'll feel the sun's last wintery rays.
For amazing textures visit the lower botanic garden's Theme Borders. Bare, papery-textured white bark on Betula utilis ssp.jacquemontii(pictured) contrasts with the silver and olive-coloured, felt-like leaves of the Teucrium fruticans: touch and feel. As you meander along the winding path perhaps you'll detect the sweet scent of winter-flowering Daphne bholua along the way.
Free up your mind and let your imagination go.