Giant African Lobelias
This article was first published on 07 Feb 2013.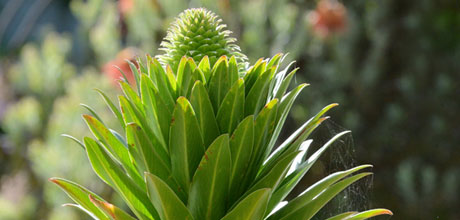 Lobelias
Lobelias are common garden plants grown for their floriferous nature with many flamboyant colours. As with most plants, there are also some species that surprise you and make it hard to tell what they are. Lobelia are no exception, with a group of them often known as tree lobelias. Using the term "tree" might be stretching the imagination a bit but they can form stems a metre or more above the ground. This is then often followed by large flower spikes extending the growth by up to another metre.
One such species is Lobelia deckenii ssp. keniensis, endemic to Mount Kenya in the mountains of East Africa. It is characterised by many rosettes of leaves interconnected by underground rhizomes. Each rosette increases in size and height over many years until reaching maturity and flowering.
Surprisingly, this lobelia is surviving well in Dunedin's climate due to the high altitude and cold temperatures that it experiences in its native habitat. Water collects in the rosettes of leaves in the moist environments where it usually grows. This water is important for its survival during cold weather as when the water freezes it protects the growing tip of the plant, reducing it from being damaged. The crescent shaped ice cubes that form in the rosettes give this plant the common name of gin and tonic lobelia.
Lobelia gregoriana (previously known as Lobelia deckenii subsp. keniensis) and another giant African lobelia, Lobelia aberdarica can be seen in the South African Garden in the Geographic Collection at Dunedin Botanic Garden.
Dylan Norfield is the Geographic and Arboretum Collection Curator at Dunedin Botanic Garden.