Golden Sign of Spring Pleases Many
This article was first published on 24 Sep 2020.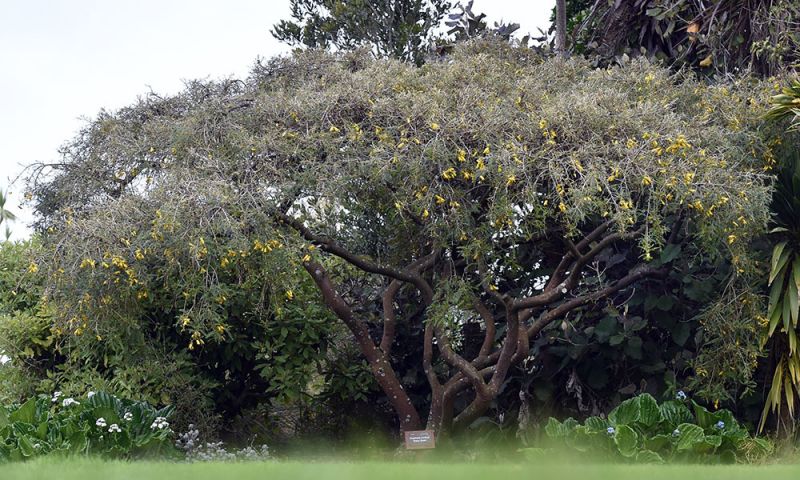 Sophora molloyi 'Early Gold'
Photo by the Otago Daily Times
One of spring's many joys is the mass golden flowering of kōwhai trees around our streets, parks and gardens.
With eight different species and considerable variation within each, kōwhai trees around the city bud up, bloom and fade at slightly staggered times. This means that we and the birds can delight in a succession of flowers for weeks on end.
In one small area in the botanic garden's native plant collection, for example, the small-leaved kōwhai (Sophora microphylla) has been flowering for a few weeks now and is almost done; coastal kōwhai, (Sophora chathamica) is smothered in open blooms; and buds of Waitakere kōwhai (Sophora fulvida) and large-leaved kōwhai (Sophora tetraptera) are just starting to open.
The champion of long-flowering kōwhai in the native collection is a great specimen of Sophora 'Early Gold'. Planted in 1987,it has a characterful twisted trunk and a dense, spreading canopy of foliage that is kept regularly clipped by kererū, who can often be spotted feasting on the leaves. This specimen has been flowering nonstop since early April, providing winter nectar for tūī and korimako.
Like the similar 'Dragon's Gold' cultivar, Sophora 'Early Gold' (pictured) is a selected form of the Cook Strait kōwhai, Sophora molloyi. In the wild these plants are restricted to extremely dry and exposed coastal bluffs and rock outcrops, making them well suited for many difficult garden situations such as dry banks, coastal or windy areas. They also grow relatively quickly into dense, green blobs - great filler shrubs for a wildlife garden.