Good Show Despite Dryness
This article was first published on 11 Apr 2013.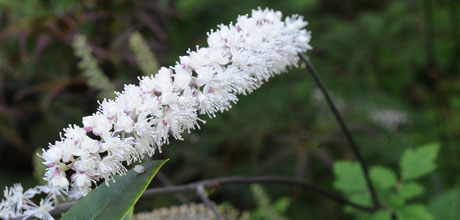 Racemosa
It may be April, but nodding plumes are still an eye-catching sight in the Rhododendron Dell at Dunedin Botanic Garden. In one corner of the border to the east of the Cherry Walk, creamy white flower heads seem almost to float in mid-air as Actaea racemosa's slender purplish stems blend in with patches of shade behind. Previously known as Cimicifuga racemosa, it is native to the woodlands of Eastern North America.
Most happy in damp, humus rich soil, they are drought tolerant once established. Normally the stems would reach up to 2m but this year's long hot summer has reduced them to about 1.5m and also the length of flower heads from 45 to 15cm. That has meant some loss of visual impact in the border, but has helped compliment the plants around them. Delicate, light green foliage contrasts perfectly with the dark rounded shapes of rhododendrons in the background, whilst the stems and flowers associate well with the fine leaves of a red leafed maple above. Visually, they also work well with any of the larger moisture loving plants, such as ferns, bamboo and hosta.
The blooms have a sweet, foetid smell that is attractive to flies and beetles, so although long lasting as a cut flower, they are unwelcome in the home. Able to be divided in spring, they can also be grown from seed sown immediately after ripening in autumn. Don't expect to see any results till spring though, because germination requires winter's colder temperatures.
Doug Thomson is curator of the Rhododendron Dell at Dunedin Botanic Garden.