Grace your Garden with Tāne's Children
This article was first published on 10 Jun 2011.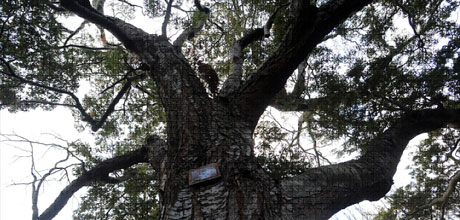 Nothofagus
"I am Tāne - the Tree-God !
Mine are forests not a few -
Forests, and I love them greatly,
Moss-encrusted, ancient, stately..."
These evokative words were written by Alfred Domett, one of New Zealand's first premiers. He clearly had a deep affection for the native bush, which must have seemed limitless at a time when most of its riches were being cleared for timber and farming.
Any keen Southern tramper, gazing up at a canopy of southern beech trees, will be grateful that many of our ancient beech forests are still here. Located mainly in hilly, inaccessible regions, they escaped the fire and the axe much better than the conifer-broadleaf forests of the lowlands.
The trees of the land's remote heart have not been forgotten, but why not plant a few more of them in our gardens? Our four native species of Southern beech, Nothofagus, are related to the European beech often seen in parks and gardens, but are seldom used as specimen trees. Nothofagus have a beautiful tiered branch structure and small, delicate leaves. They are worth considering as alternatives to frequently planted European trees like birches and oaks.
Nothofagus are hardy, easy to establish, grow relatively quickly and live for a few hundred years. Planting them in full sun with plenty of space will best display their graceful canopy. If you don't have a large garden, most species respond well to a light pruning - they can even be clipped as a hedge.
Kate Caldwell is a horticultural apprentice at Dunedin Botanic Garden.