Graceful bush fern works well in garden
This article was first published on 04 Mar 2016.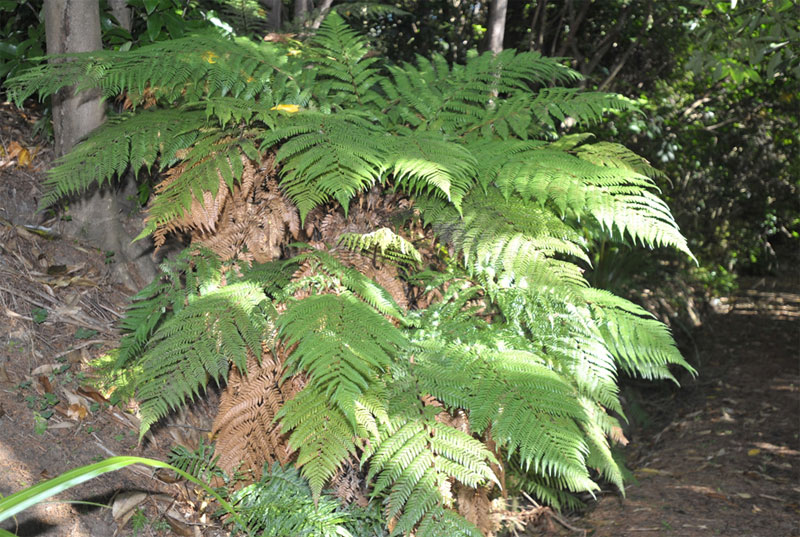 Dicksonia squarrosa
New Zealand tree ferns are jewels in our natural landscapes and flora, and they are rock star garden plants too. Striking and primeval, they have instant impact. When I pass a garden with a tree fern, I always pause to admire the elegant form and lush foliage.
Our native tree ferns fall into two genera – Cyathea and Dicksonia. Colloquially they are known as pungas. This is perhaps an English corruption of 'ponga', a māori name for some species of Cyathea.
In the genus Cyathea are the 'soft' tree ferns. Among them are the iconic silver fern (Cyathea dealbata) and the queenly mamaku (Cyathea medullaris).
The genus Dicksonia contains the 'hard' tree ferns. Their fronds are prickly to the touch. The most common Dicksonia species is the slender-trunked whekī (Dicksonia squarrosa). Whekī is unique for its ability to resprout from the trunk if damaged – beautiful living fences can be constructed from the trunks of whekī.
Tree ferns may seem very delicate and shade-loving, but in nature, they are often some of the first plants to colonise an area after a tree fall or slip. As long as they are given adequate moisture, particularly in their first few years, many tree ferns will handle a bit of sun and even a degree of exposure.
The best soil for tree ferns is rich and free-draining, so mimic the forest floor and provide them with a thick layer of compost mulch. They need a frost-free spot, and prefer some shade around the roots.Kate Caldwell is curator of the native plant collection at Dunedin Botanic Garden.