Graceful Snow Tussock a Winter Stunner
This article was first published on 14 Jul 2014.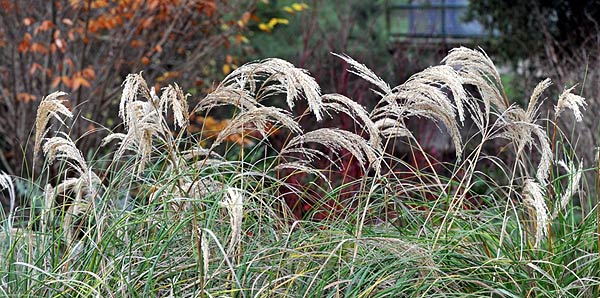 Chionochloa flavicans
Chionochloa is an Australasian genus with the bulk of species confined to New Zealand. These are widely distributed throughout the country and make up the majority of the plants in our iconic New Zealand tussock lands. Pronunciation of the botanical name is easy once you know that it is derived from the Greek words for snow - chion and grass chloe, therefore the ch's are pronounced as k's (as in choir).
Chionochloa flavicans is commonly called snow tussock or snow grass, and often, but less correctly, miniature toetoe. Toetoe is better known as a different genus (Austroderia), so although botanically misleading, it does quite accurately describe how this plant looks.
Drooping feathery flower heads arise from arching deep green foliage giving this grass an overall weeping habit. The leaves are quite broad for a Chionochloa, up to 12mm, with a lighter under surface. The florets appear in summer and are at first quite green in colour, slowly turning into fluffy white plumes which persist throughout the winter, looking stunning when glistening with frost.
This snow tussock is a North Island species, occurring in rocky outcrops in the Coromandel region and down the east coast from East Cape to Hawkes Bay. It is very hardy, and doesn't mind a drier soil once it is established. Plants can be divided in the autumn or spring, and are also easily grown from seed.
This graceful grass can be seen in the Native Collection and at the north end of the Bog Garden in the lower Botanic Garden.
Robyn Abernethy is the Rock, Water & Alpine Collection Curator at the Dunedin Botanic Garden.