Horticulture Contributes to Rare Plant's Survival
This article was first published on 11 Jul 2013.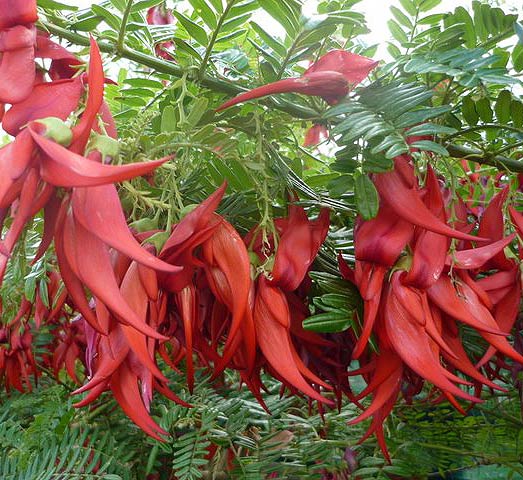 Kakabeak, Clianthus puniceus
Kakabeak, Clianthus puniceus, is possibly one of the most well-known of our native flowering plants and a very popular garden plant. Given this, it is hard to believe that, as of 2005, there is only one known plant left in the wild.
There are two species of kakabeak. Both are similar and both are listed as nationally critical by the New Zealand Plant Conservation Network. Clianthus puniceus has a dull upper leaf surface and salmon red, salmon pink or cream coloured flowers. C. maximus is usually a more robust plant with notably glossy foliage and flowers generally larger and darker red. Both species grow naturally in the North Island however with a bit of protection from cold wind they are tolerant of our lovely Dunedin weather. Give them a hard prune straight after flowering to maintain a healthy, shrubby plant, otherwise they will lose vigour and get straggly. Both species can be propagated from seed or cuttings.
Kakabeak has been planted throughout Dunedin Botanic Garden. You can see both species in the Fabaceae (legume) border in the lawn area of the upper garden's New Zealand native plant collection.
Garden worthiness has contributed to the survival of a wide range of rare plants such as kakabeak. Dunedin Botanic Garden uses the kakabeak flower as its logo, symbolising the Garden's conservation role. While we as gardeners can grow commercially available threatened plants, it is up to all of us to ensure those areas of New Zealand that have such rarities are preserved where possible.
Shirley Stuart is curator of the native plant collection at Dunedin Botanic Garden.